I was bored one night at my apartment hanging out with my roommate, his girlfriend, and her roommate. My roommate had to head to work for the night and left me with just the two girls. I had nothing better to do, so we jokingly decided on a game of truth or dare.
When my roommates girlfriend, Annie and her roommate Clara, told me that they were witches, I didn't believe them. So, I dared them to prove it.
Needless to say, getting turned in to a smoking hot blonde is one way to prove it.
When they invited me to their girls night in, I figured there was no harm in having some fun for my night as a girl- seeing life from the other side of the fence. They told me the spell was only temporary.
But then my roommate showed up again, and we all took turns giving him blow jobs.
I must say, this was not how I expected my night to go.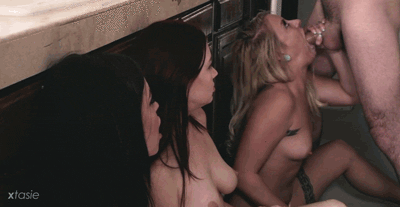 [ssba]