Holly and I grew up together. Our families were the only ones on the block with kids so we played and became best friends even though I was three years older. As she grew up though she became quite pretty. She was comfortable around me so she never thought much about what she was wearing or how little. Holly was my best friend though so I tried to be respectful even if my glance went her way.
I started investing when I was 16 and was good at trading stocks, enough to pay for college and buy my parents home so they could retire early and go enjoy their later years. So I was able to work from home still and Holly would come over and do homework or just hang out and watch TV and play games. She was at home watching sports with my other friends and fit in with our group, though all agreed she had become a real looker.
She was over one Saturday afternoon like usual. I was in sweats with no shirt and she had kicked off her sweat pants and just had her panties and a zip up hoodie on while we watched a Premier League game. When she started talking about applying to colleges I decided to tell her how I really felt. I told her I was in love with her. She said that she loved me too, but sadly I just wasn't her type. I said I was willing to change. I could work out more or grow a beard. Whatever she wanted. She indicated that there was a chance and went home. I grabbed a beer and was a bit dazed. It didn't go as bad as it could but it didn't go well. Before I really got to think about it she came back in with a weird contraption. She claimed it was something her dad, an amateur inventor, was working on.
She played with some dials then pushed a button and it zapped me with some light. My sweats became thigh high stockings and my boxers little black panties. I thought them both a bit tight and rolled my right stocking down while she twisted more dials and fired again. Now they felt comfortable but the world looked a bit bigger. I saw the bright red on my nails when looking at my hand. I looked in the mirror and she had made me a girl and I was a couple of years younger than her now. If this is the body she wanted to be with that was fine by me. I would totally fuck me. I preened a bit in front of the mirror and then Holly apologized. I said that there was no reason to, I liked this new body. Then she said it wasn't for that and the device bathed me in light one more time. That's when she put the device down and came up behind me. She reached her hands across my belly and began fingering my pussy. It felt amazing. I had my hand on her thigh and normally would have roamed everywhere but my Mistress hadn't given me permission to do that. She told me that the mental changes were the last addition. I still knew everything I did before, but she liked being in control of her lovers so I had to become submissive to her. Mistress fondles my clit and whispers that now we can be together forever. Sometimes I please her but mostly she likes making me writhe in ecstasy. Mistress Holly is so generous. I still trade stocks and make us rich when she is out. When she is home I'm her own immortal goddess ready for her touch. She used the machine to stop aging then smashed it so her dad couldn't undo the creation of her perfect plaything. She is very proud of me and even invites my old friends over so they can watch as she brings me to an orchestra of orgasms.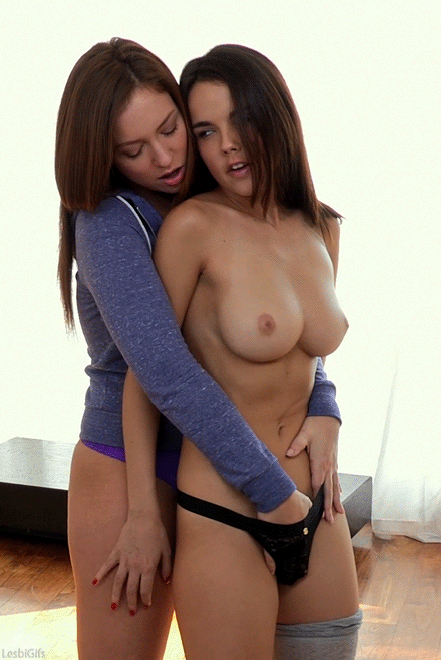 [ssba]