My roommate was always a jealous prick. It started off bad enough. He was jealous of my height. I was 6'6″ and he was 5'9″. He used his magic to shrink me to 5'6″.
Then the next day he looked at me wearing baggy clothes and said I looked small and womanish, and POOF! I was a woman.
The next day he saw me as I exited the show and said if he was going to room with a girl she had better be hot. POOF! My tits perked up, my hair turned blond and my body became toned.
The next day he heard me masturbating in my room and burst in, saying that if I was going to enjoy the body he gave me, he should get some too. POOF! I'm on my knees in front of him, hunched over with his cock in my mouth. I turned and saw myself in the mirror. I'd been horny before but for some reason sucking a cock was just driving me wild! Then he put his hand on my head and said if a girl was going to be sucking his cock she should be the right height to do it properly. POOF! My mouth went from having a cock in it to being literally FULL of his giant dick! I was eye level with it now and as high up on my knees as I could get. I looked up at him and he smiled and said if a girl was going to be gagging on his cock she might as well not be able to fit it in he mouth at all. POOF! I was looking UP at his cock struggling to get my lips around it. My pussy was gushing like hell and I couldn't believe how turned on this was all making me.
I whimpered as he lifted me up off his cock and I realized when I stood up I wasn't even as tall as his nipples now. He picked me up like I weighed nothing and tossed me on my bed. Then he thrust his giant cock into me up to the hilt and I screamed as I came in the most incredible orgasm of my life. My roommate stroked my breasts as he thrust into me and said if he was going to make a girl cum she should be his girlfriend. I waited for the poof and my mind to change, but it didn't come. I realized he was asking me to make a choice about what came next.
The next day my boyfriend and I stayed in bed all day and fucked. I loved how much bigger he was than me and how my whole body shook as he pounded me over and over again. They say there are perils to having a warlock for a roommate, but I couldn't recommend it more highly.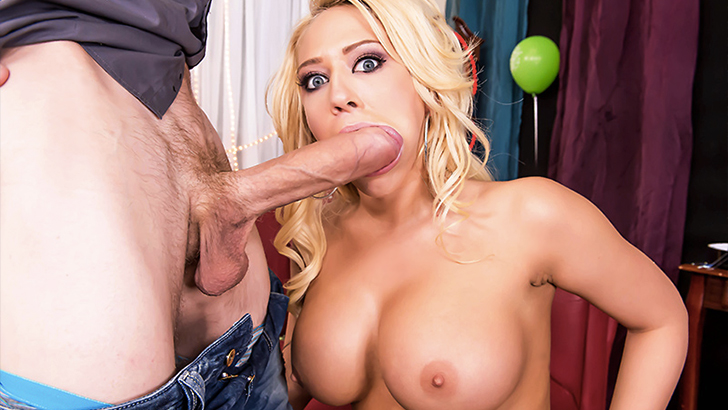 [ssba]