'Don't you fucking dare, Mikey! Don't you FUCKING dare,' Anna yelled at the laptop.
'Dare what? Oh do you mean… this?' Mikey teased, unhooking his bra and turning to the webcam.
'I'M GONNA KILL YOU! PUT A FUCKING SHIRT ON YOU PERVERT! THAT IS NOT YOU, THAT IS ME!'
'Oh it used to be, Anna! But as you can see, times have changed and so have I. So if you want to keep the shitty little life you now have at a reasonable level of bearable, I would suggest you keep to yourself any ideas of talking about the spell I cast to commandeer this sexy little body. And keep your voice down. Your new father is a heavy sleeper when he's drunk, but he's awfully nasty when someone wakes him.'
Anna began to sob as she stared at her old self dancing in front of the mirror. Skype was now the closest she would ever get to her childhood bedroom. What had she done to deserve this? She barely even recognized her disgusting new face in the mirror. Mikey was just some weirdo that stared at her in History. It wasn't her fault that Brandon had beat him up for staring at her.
Mikey, meanwhile, was admiring his new ass in the mirror, bending at the waist and placing both his hands on the floor before springing up and announcing to webcam: 'I'm going to give you one final look at your pussy, Anna. I'm going to let you watch as I fuck myself senseless. But after that, I'm afraid you will be going back to your life as a nobody. Now tell me: where do you keep your vibrator?'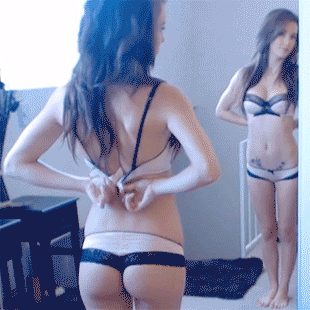 [ssba]