The door opened as soon as Bella knocked. A very good looking man answered. He certainly was taking good care of his body and his looks. He was already dressed in a suit and awaited her. "You must be Bella" He smiled. Bella gazed at him for a moment, she couldn't belive how handsome he was. "Yes, yes. I'm Bella, you must be Mark" Bella was embarassed she didn't make a good first impression. "Shall we?" Mark offered his hand.
Mark took her to a fancy restaurant. It was the first time Bella ate in a place like this, with her salary as a waitress she couldn't afford such dinner. They sat facing each other and started to think of their meal.
The food was good but Bella enjoyed Mark's company more than it. She couldn't stop checking him out. His handsome face with short trimmed hair, oh how she would love to feel it between her thighs. She stared at him with her puppy eyes, already dreaming about a next date.
After the dinner Mark took her on a walk. He was a real gentelman and didn't try anything funny and what a dissapointment was that. Bella would love his hands on her butt. As they came back Bella invited him for some coffee. Mark agreed and went in. It was finally time to put into good use the sexy lingerie Bella had wore today.
—–
"That was amazing" Mark was panting from exertion. "I told you i'm good" Bella turned to him, she was also tired but satisfied as ever. "I never had such an amazing sex" Mark was still shocked. "I can do even better" She climbed on top of him. Mark stared at her bare breasts, he wanted to touch them but Bella rolled over. "I'm thirsty, I'm going to get something from the fridge" She said and put on her underwear. "Bella" Mark said as she was about to leave. Bella turned to him and saw his penis fully erected. "Grab something for me too. We're going to have a second round" He smirked. Bella bit her lower lip, she was already getting aroused.
It's been two weeks now since their first date and everything was going smooth. There was passion between them and Bella was sure a wonderful future awaits them.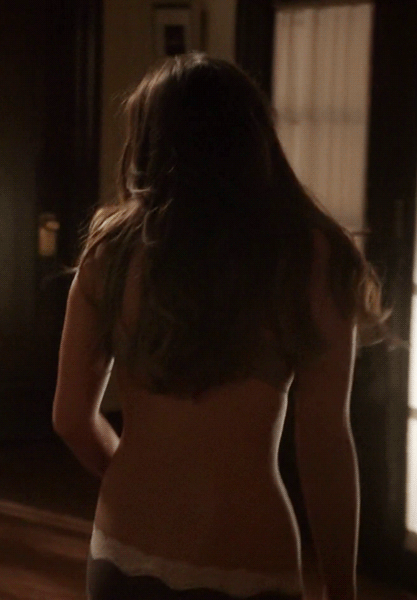 [ssba]