You looked down on your wife as she twiddled her exposed tits. You were already getting hard at the sight of her jiggling masses. Since she had grown larger she had become almost obsessed with her chest, going topless as often as she could.
"Oh!" she said, turning to notice you sitting on the top of the couch. "I almost didn't see you there, little man." Then she caught sight of your firm member, completely exposed as none of your clothes would fit you now. "Aww, were you eyeing up my boobies? He-he, naughty boy! Although, I think they'd be even better if you could just make them a little bit bigger? Please?" She had begun fondling her huge breasts, and you could feel the pressure building inside your cock. You had to hold it back though: while you loved seeing her boobs get bigger, you couldn't afford to get any smaller!
"Come on, just a little bit? I finally have some bras that fit, and we don't want that, do we?" She knelt on the couch, her chest right in front of me as she squeezed them. I couldn't hold it back any longer, and I came, shooting over just the tip of one of her tits. Instantly I felt myself shrinking even smaller, but before my eyes I could see her growing even bigger: at least another cup size.
"Thanks sweetie," she said as she stood up. "Now if you'll excuse me, I think I need to go see how many bras I can burst with these new puppies!" And she walked away, leaving me to sit and watch as her tits swung with every step.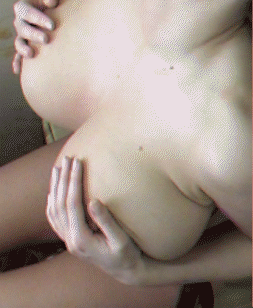 [ssba]