My sister and I were at the club. I was having a terrible time. My sister changed my outfit from a leopord print dress to a tight black one with a gold chest, making my breasts appear more noticeable. Men kept hitting at me and groping my ass, the entire situation was super uncomfortable. One time a man pretended to trip and grabbed each of my breasts. It sent a shiver down my spine when he grabbed my breasts, but it was still super uncomfortable. My sister told me she was going to grab some drinks from the bar. I asked if I could go with her, but told me to go sit down in an empty booth. I did what I was told. After about five minutes, she came back with two drinks. Her's looked like a normal cocktail, but the one she gave me was a strange pink color.
"Drink up, Charlotte!" My sister said, sitting down next to me.
"I don't know," I said, smelling the drink. "It looks weird."
"Do it, or you will only be allowed to wear clubbing dresses." I sighed and took a sip of the drink. It tasted funny, but strangely I wanted more. I started to drink and drink until it was all gone. I looked at my sister, giving a slight smile.
"Wow, that was pretty god, what was that?" I asked her.
"Just a little something for you to lighten up." She giggled at me. My heart dropped, what did she mean by that. After a few minutes my mind started to grow fuzzy. I suddenly had a bit of energy. I feel like I wanted to dance. Deep down it felt wrong, but right now I just wanted to go have fun.
I got out of the booth and told my sister I was going to the dance floor. She giggled and said okay. I made my way through the crowd of people and found my way into the middle of the dance floor. It was almost like instinct, but I started to dance to the music. I swayed my hips and ass back and forth, bounced up and down which made my breasts as well go up and down and up and down. I was having a blast. I didn't notice, but a lot of guys were now staring at me. One of them came up to me and started grinding on me. I smiled, bent down and danced back with him. It felt so natural being at the center of attention right now. He started to grab my ass while dancing and it felt amazing.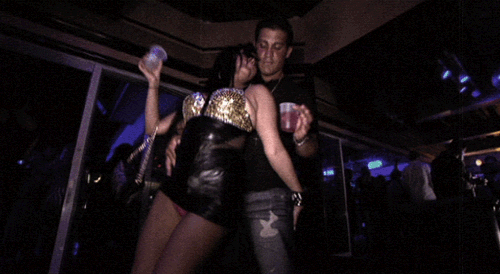 [ssba]