The Sisterhood was out for blood, or mainly manhood, of any cheating guy who hurt women in town. Terrence here was the first victim of their girly wraith, as they seduced him easily. He thought he was getting four hot girls at once, but he would find he was going to get more than that!
As they chanted, and Felicity on the right touched his balls with her delicate manicured left hand, the magic channeled into Terrence, and he was instantly changed to a busty blonde bimbo slut bomb. Terrence looked confused as SHE realized she had huge new breasts 32J's to be exact, and a hot wet new pussy to go with them. She felt her new equipment in horror, as her thick new lips were opened wide in shock and awe at the changes. She noticed the long blonde wavy hair cascading beside each boob, and framing her face, the silken strands almost to her tiny new waist, a waist she could only feel and not see much of with the huge cleavage before her now! As she managed to feel her new large round ass and hips after touching the pussy and boobs, she felt her long sexy nails dig into the butt fat, and she squeezed it in reaction. Reaction to her first thought of desire, she was thinking of her buddies' cocks and big strong bodies naked before her! She screamed, and heard her new ultra high pitched voice, confirming what she already knew, she was a girl now, a busty girl, and busty girl who was into dudes!
The girls got up, congratulating each other on a job well done, did not even speak to Terrence, and just walked out the door, leaving her to her new life as a blonde bimbo! This was not all of the spell however. Reality itself was turned on end, as Terrence would soon find how it was changed!
In walked his buddies Lee and Henry, who were busy downstairs earlier at the party trying to get a piece of ass, with Lee bursting in yelling, "So, this is where Tabatha is, the hottest most sluttiest blondest bimbo in town! Hello Tabitha! The girls were right, you are one hot item! Don't worry baby, two studs are here for you!"
Terrence, apparently now Tabitha was in horror, her former buddies unzipping and undressing before her! At the same time, they were starting to look "hot" to her also! She tried to leave before something happened between them, but the door was locked! Not by the guys mind you, but by the girls that did this magic upon poor Terrence! She couldn't get out, and turned back around to the dudes!
Henry said, "Where are you going Tabitha? We haven't even started yet baby! You are one sexy item!"
Tabitha's new desires overwhelmed her and soon she was easily on her knees with the two studs taking turns sucking each cock attempting to balance out the pleasure she was giving the two men, while her pleasure was increasing, sucking cocks was turning her on beyond any turn on she had before!
When she knew the guys were ready, having been a guy herself, she pulled back pushing her already protruding chest out even more to them, "Ok, boys, GIVE IT TO ME!"
Waves of hot sperm from her former buddies splashed her face and tits, rolling down to her soft smooth legs. As the hot seed of her former buddies hit her body, she had three orgasms in a row, and on the third she sprayed everywhere! Then as she calmed down, rubbing up the seed, and tasting some of it, shuddering from her orgasmic bliss, new thoughts entered her mind. Thoughts of buying sexy new outfits and beauty makeup entered her new mind. Clothing, makeup, and boys were her new loves in life, with the latter being the highest priority! As Terrence she had always said that was a bimbo's loves in life, clothing, makeup, and boys, so now she was living her own beliefs of what a bimbo was, AS A BIMBO!
For now, all the clothing Tabitha had was the guy clothes she wore upstairs. The girls all laughed as they seen the new chick go downstairs at the party, her t-shirt stretched over her new chest, and not even wearing her jeans, as they would not fit her new thunderous thighs! Her briefs were soaked with wet pussy juices as well, and many of the guys and gals downstairs smelled pussy, Tabitha's sexy new pussy to be exact! She oozed sex, and rightfully so, as Terrence she was out for pieces of ass, and now SHE WAS A PIECE OF ASS HERSELF!
Felicity said to her Sisterhood cohorts, Liza, Gina, and Lolita, "Job well done girls, now we have so many more to make pay for their infidelities!"
Let's just say, Tabitha was not the only new busty babe to leave the party that night! The two guys that had their way with her, Lee and Henry, were now Leona, and Helena; Leona was a busty and super short, 4'5″ redhead, and Helena, an ultra busty brunette with possibly the biggest boobs in the general area of states at a whopping 34P! The Sisterhood loved variety in their transformations!
The biggest stud in town, Brent, was at the party too, and he had cheated on whopping 32 girls. He was given hair three colors, blonde, red, and brunette, it was down to the floor, he had a wasp waist, and huge hips and ass, and his boobs were massive as his nails were ultra long and dark red! His lips so plump no one even understood him, and he had more piercings than a biker hooker! Also his clit was almost as big as a tiny cock! Since he cheated on 32 girls, they put him upstairs with 32 guys at once! He became the gang bang cum slut Brenda Blows!
The girls had their work cut out for them, and they had no regrets as they taught many dirty cheaters permanent lessons!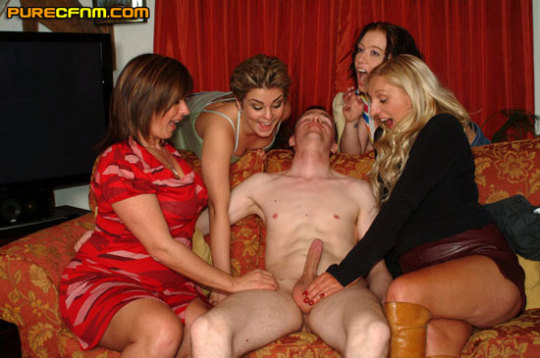 [ssba]