I had been having a very bad holiday. My wife had just left me, taking my children with her.
"Fuck her," I thought, and went out drinking. I had shot after shot, until the bartender cut me off. Not for being a drunk, but simply for being broke. He kicked me out and told me not to come back.
When I returned to my apartment, it was trashed, and the landlord kicked me out.
I had nothing, and went shivering out into the cold.
That's when I met a bell-ringing Santa.
"I can help you out," he said.
"Yeah, buddy," I told him, "what do you want me to do? Suck your dick?"
"Listen, I'm a holiday genie. I can help you out. You just have to wish for something."
I laughed.
"Well then, everything's gone to shit, I don't even feel the Christmas spirit. I'd love to feel it."
"That is arranged," the Santa said, and then disappeared.
I guess I disappeared too, because the next thing I knew I felt something sliding in and out of me. In a way that I'd never felt before. But the friction felt so good, something shook inside me. I cried out.
"That's it Mrs. Claus," Santa said. I couldn't tell if it was the same one as before or a different Santa, but as he kept fuck me, I began to lose all the cares I had in the world.
I had been made Santa's lover, and I began to enjoy it. With each thrust, I felt the spirit more and more. One thrust and I wanted to bake cookies, another and I felt like decorating a tree, another and I wanted to do nothing more than sing Christmas carols, as long as Santa kept his cock in me.
I knew that I had it made, if I could just keep the jolly old elf happy. My old life didn't matter.
Santa spent, but I was not ready to finish, so I turned around and began to suck his candy cane until it hardened again.
I got turned back around and Santa entered me again– in the other hole.
I love Christmas.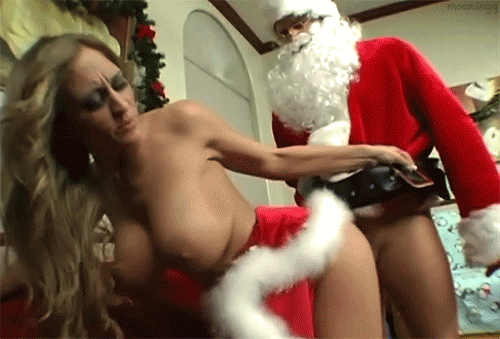 [ssba]