She gets college credit, I get a bump into upper management. My firm required "Diversity Certification" to make Partner; a new credential that says one lived as an 'underrepresented' group for 12 months. Being your average white male, the only way for me to get that little piece of paper would be to switch lives with someone else. Initially quite hesitant, my wife soon threw away her reluctance after she saw the salary of Partner at my firm.
Second Chance Inc. paired me with Katy, a 19 year old Sorority girl from upstate. I would live her life as a co-ed and she would gain college (business) credit with monetary compensation living mine. Four weeks later, I kissed my crying wife goodbye assuring we would be back together soon and that Katy in my body would treat her right.
I awoke facing me, my male body moving without my impulse, and walked out of Second Chance Inc. legally and physically 19 year old Katy McEllerson. You know the most surprising part of my new life? How easy it came. The only people aware of me being in Katy's body were her family who were phenomenal, apparently Katy's other sister did the same temporary exchange years ago. I returned to Katy's Sorority House and University, and slept in the same room as her unknowing roommate. All the panties, bras, skirts, hair styling equipment and nail polish in Katy's drawers were now mine. I thought, 'I have a roommate just like in my undergrad, except she is a girl. Wait, I am girl. I am a GIRL.' There was no denying that. I couldn't escape that I had to sit to pee in the morning, the way my chest and thighs jiggled with every movement, or how the world treated me as a female. As a Sorority girl, never thought I would write that, I was forced to endure many dances, socials, and events in our "Sunday's Best", dresses and makeup. Not that it was hard to get done up, Second Chance Inc had left many 'cues' of the original body owner to help us in day to day life. I put on a bra, makeup, and spoke with feminine vocal inflections as effortlessly as the real Katy. I even read they left some of the interests and thought processes of the original body owner. This wasn't lost on me as I fervently Snapchatted photos of my new blush pink dress for Semi-Formal to my new sorority girl friends.
I met my wife for the first time since the switch at a diner mid-way between Katy's college and our town five months later. She looked radiant, I never appreciated how well she stylized. We amiably smiled and hugged each other, but it felt peculiar being nearly the same height and for our breasts to be pushing into each other. I told her it was alright to just call me Katy in public as we exchanged pleasantries. It was nice to see her, but she seemed so distant. I curtly recognized why, she wasn't treating like her Husband of ten years. She was catching up with me as if I was an old girl friend; maybe reflexively considering how feminine I appeared and acted, which even surprised me sometimes. I called her out on it. "I am pregnant!" She burst out crying. Oh my god, I failed to recognize her modest baby bump. I reassured her it was alright. "No," she elaborate, "The baby is four months along". She cheated on me, with my own body. In hindsight I shouldn't have been so mad, but I stormed out and drove back crying as well to my Sorority House.
So life moved on, and I tried to not think about my wife being intimate with Katy in my body. I devoted myself to her studies (All A's and a B) and Sorority life. Strangely I found it cathartic to make crafts for our rival Fraternity, decorate the house, and hang out with the other, still odd to say it, girls. They were so nice. I took it upon myself to fully participate in the Greek Life. By that I mean becoming friends with everyone, including frat brothers at mixed events. Some were nice, mean, others weird, but one stuck out to me, Brad. I pictured the young guy me being best friends with him, but as a girl I attempted to keep my distance. I couldn't. After one too many drinks, our eyes were locked on the back porch of a Frat house. The thought of my prego wife dashed through my head and then back at him. There was no time like now. Our lips met and our tongues intertwined. Soon "Katy and Brad" became a thing, and I felt feelings I hadn't felt since the earliest days of my marriage, infatuation. My heart glowed looking up to him with my hand in his on our many casual, formal and overall terrific dates. Sure my Sorority sisters were beautiful and the envy of every guy, I could acknowledge that notion but mentally my mind did not reciprocate those feelings anymore. Brad was the clear object of my desire, and I intently took a true leap from my old life to my current one.
We saw each other nearly nightly, our hands and lips exploring each other's bodies. Despite my prior experience as a guy, I felt exposed the first time he saw me topless, then again I didn't used to have soft B, nearly C, cup breasts. We took many naughty showers together; my hand stroking his thick firm erection, his hands fingering me off and cupping my breasts. Oh why did I enjoy licking him off so much once he finished? I promptly went on birth control, and soon tried out some of my wife's favorite positions as I discovered my own. I loved being fucked so hard by him spread eagle before I went back to the Sorority House for another 'girl's event'. I even brought him back to my new family for a weekend. Katy's parents, surprisingly to me, said, "We are so happy you are dating Brad, you two look so happy together."
I trembled with a few tears up the stairs in my three inch wedges and blush pink dress. Might as well go out in style, right? This was it, the one year done. I sat across from my normal sized wife, the baby must of been born, and my former body. It felt so foreign picturing me as him, but that is what I used to be and would become in an one hour. The lady at the head of the table jolted me back to reality. "This isn't standard process to meet like this before, but your wife and Katy have a proposition," I saw my former body silently cringe at her real name, "Katy doesn't want to change back into her body."
"Me neither," I blurted back. I walked out of that building beaming. I was legally, physically, and emotionally Katy McEllerson for the rest of my life. My phone in my purse vibrated with a text, it was Brad, 'We meeting up tonight babe? Missing you' I smiled even more.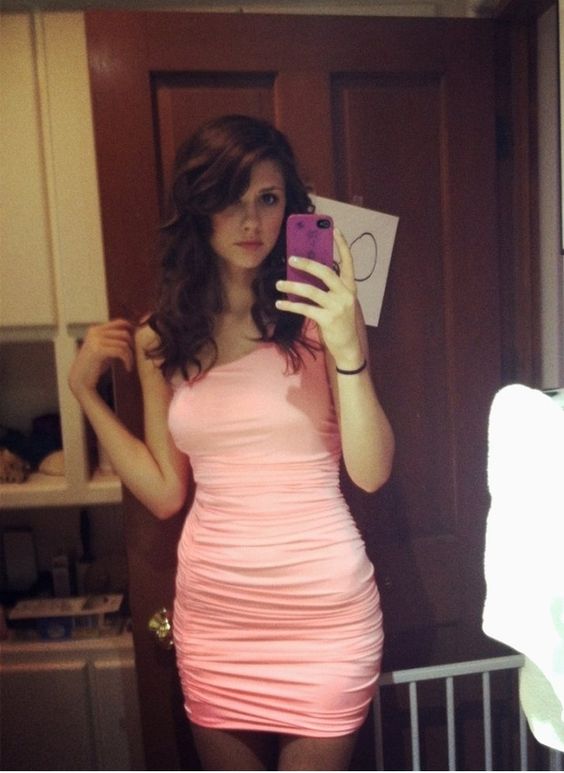 [ssba]