Tiffany lifted Terrence's new face up a bit, as he looked her in the eye in horror, "You messed up my plumbing job and ripped me off, so now it's time for you to work with a different kind of plumbing. That penis now inside your new plumbing is just the beginning, Teresa!"
Terrence had done a shady job on Tiffany's plumbing, so she put him in a daze until nightfall when the sex party she was having took place, then changed him into a woman, complete with new indoor plumbing. Still in a daze, she made him fully aware of his new status and plumbing penetration, as she lifted his new chin.
Tiffany told him also that cum made it permanent, and Terrence now being called Teresa, tried to get off the man, but it was too late, he felt a twitch on the already strange sensation of having a penis inside him, and in came the hot load! The new woman then shuddered in female orgasm! Then, Tiffany at that point knew HER fate was sealed, she was stuck with the new indoor plumbing that the man she was riding just tested out! She cupped her new heavy boobs, and then fingered the entrance to her new plumbing, stunned and shocked.
Tiffany just laughed, "Now your one of the girls now, baby, how's that indoor plumbing? Is it working good for you? Better get used to it, Teresa!"
The new Teresa raced for a mirror, nearly twisting her tiny ankles in the heels she now had on her tiny new feet. She looked at her reflection in scared disbelief, she was a busty brunette in a corset top and heels with hot cum dripping down her legs for the stud that just sealed her fate permanently!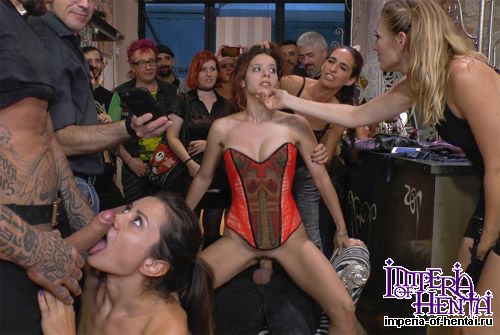 [ssba]