"Let me go" I yelled. But it was too late, the two unknown girls at my friend's appartment had grabbed both my arms. They dragged me all the way to their bedroom. There, they stripped me naked, and after both of them giving me a blowjob. That didn't sound too bad I guess, but they had more than sex in mind. They started fingering each other, and when they were wet, and their hands dripping they started touching my equipment. I felt how it just disappeared.
They kept on massaging my whole body, making me change more and more. I tried to escape one last time, but they grabbed me by my new pussy and continued fingering me. I finally came on both their hands, I started moaning. I didn't want to be a bimbo, I was a guy, but it was too late, my fate was sealed the moment I came as a woman.
Two minutes later I was yelling "more! more!". I was one of them now. I couldn't stop thinking about sex, I wanted a man inside of me. After taking a quick shower, we got dressed and went clubbing. We were looking for the right guy, one that wouldn't want to have a foursome with us.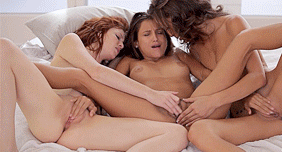 [ssba]