I shook my head violently. "No way! Those options are awful! You're trying to manipulate me, turning me into a full woman, aren't you?" I glared daggers at Jack, who had locked himself in this nightclub bathroom with me.
"You need to choose something, sweetheart. Otherwise I'll have to make a choice for you."
"No! No way! Get out of my way, now!" I tried to make my way past Jack for the door. But I saw him push the button on the remote, I tried to keep it together. Keep my mind together…
*bzzt*
I shook my head. "What were we talking about? Why are you in the bathroom with me?" I was a little surprised to see Jack in here.
"Well, I saw you dancing out there, and you ran in here desperately. I figured, as your friend, you'd want me to come help you out." He grinned.
I took stock. I left because I was grinding up with that guy out there, and the beating music was making me act like a cat in heat. My pussy was still warm, and I came in here to try to address it.
"I… I just feel so…" I held my head. "You didn't use the remote on me again, did you?"
He looked offended. "No, I didn't. Not since I changed you into a girl yesterday. Tell me, maybe this will help. Just tell me your name and that should help calm you down."
"My name is… Veronica." I remembered. It made sense to me, it felt comfortable and familiar.
"That's right. And I didn't change that on you. Why would I? You can trust me, Veronica."
Maybe he was right. Fuck, I was a horny mess. I needed to do something. For some reason, the thought "I want to fuck Jack" kept playing over and over in my head.
After getting over myself, I gave in. I grabbed Jack by the back of his neck and pulled him close to me. He wrapped his hands around my waist, grabbing my ass. We started making out in the bathroom, my pelvis rubbing against his.
I felt his cock stiffen, and he started to lift my dress up exposing my thong. I remember choosing this thong myself. My bra was unclasped, I remember choosing that too. I must have wanted this all along. Dressing like a girl, acting like a girl, fucking like a girl.
"Jack…" I whispered between breaths.
He replied only by lifting my petite body up onto the countertop, and sliding his dick inside me. I squealed. I felt new nerve endings I never knew I had come alive. Then, he started thrusting.
I was so fucking wet I could hardly contain myself, and I thruster back. His dick slammed into me, over and over, pounding my small frame against the countertop. Yes! YES!
I grabbed my own soft breasts and let out ohs and ahs. We were lost in each other, engaged in this sloppy, messy, dirty dance. He absolutely fucked my brains out.
I lost count of the number of times I came. I was brought back to the real world when he finally grunted, clenched his teeth, pulled out his dick and came all over me. We collapsed in each other's arms, breathing heavily.
"Holy shit, Jack, that was…" I started. It was all so surreal. I brushed the messy hair from my face.
"Incredible?" He laughed. "You are so incredibly sexy, Veronica. I wish we could do this all the time." He pulled out his remote and pointed it at me. "Alright, last choice for you. As with before, you won't remember your own choice."
1. You will believe that you have always been a woman.
2. You will stay a woman, and keep your older memories, but you'll be madly in love with me.
3. You will stay a woman, and keep your memories, but you'll be an absolute sexpot.
4. You'll change back into a man, but always secretly wish you could turn back into a woman somehow.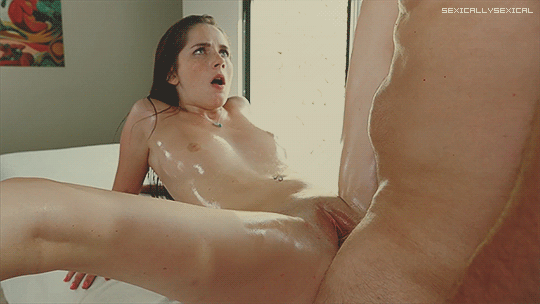 [ssba]