We wanted to do a possession party after our successful one with the beach in Arizon with My friends Steven and joe. We tested our possession powers individually and had our own little mischief like I when I flew to California and had some little fun with more bikini girls and Steven told me that he possessed a teacher that he always like and spent money on dildos to play with her body. Joe only possessed his sister and masturbated the hell in her, he told me that when he de possessed her she was crying as she was putt her hands in her pussy.
But the thing with all of that is that it was individually not as a group like we wanted but we did agree we wanted to test it out on our own for a little bit before we do it again as a group. I was the only one who went back to the girls body to have some fun, but it was the tall blonde girl. It was a nice Wednesday mourning and I called Steven and joe to see if they want to do a possession party today. Neither of them responded after the third call, Steven said that he would be over at my house in 15 minutes because he was playing a game. And joe said he was busy with family stuff.
I just walked over to my bed and laid down face first into the pillows wondering where should we go next. I didn't want to go to the beach again until we went to different places like maybe a club, dance party, even going to a hotel and just looking at people. When I close my eyes I dreamed about possessing my crush that I always liked. She had at least d cup tits, a round ass, and a gorgeous face. But the problem was I didn't know where she lived so I would have to do it on my own time. I open my eyes and turn around and I see Steven looking at me eyebrow up.
I quickly stand up wondering how did he get in here, he told me that he was part ghost. I forgot about that but I asked him where would he want to go. Steven asked me if we want to head back into those girls bodies again since we know where they live. I told him I already did that then Steven said lets go to an apartment building. I asked him why and he told me that's where those girls take those hot as selfies and there on those websites. I agreed with him then we both turn into ghosts and fly to the closest apartment building we know and that was a block away.
When we get there we see a building that said apartments then the other was the actual thing. We both f,y into the apartment building check in thing. We both spot a black haired girl getting her keys and if I wasn't deaf I think I heard the thing I was wondering. I heard the clerk say here you go Carly, carly was my crush, I told him meet me at this girls apartment. He said ok then flies down there and checks the number then flies away. When Carly turned around and walked to the out of the building I possess her. I quickly jog to the apartments and check my number which was 208 so the second floor and run up the stairs. Her boobs jiggled so much and it made me want to masturbate more in her.
I run down the hallway nail I saw the number 208 and I use the key to open the door. I lock the door behind me and. Quickly take off my shirt and jeans and stared at her body the closet mirror. I cup her breasts feeling the heaviness I want then I turn around my hand squishing her butt cheek and then I kissed the mirror tits pushed against the mirror drooling. I needed to wait for Steven to begin the full process so I decided to do something that didn't need him. I out my hand down her cheeta panties and began to masturbate quickly. I thought of coming down here each day's owing that I can do this whenever I want.
I hear a knock on the door so I walk over and open it and it was this orange haired girl in punk lingerine telling me that I couldn't hold it. She walks in then closes the door, then grabs me and pulls me to a room where a bed was. She pushes me onto the bed then started to eat my pussy. She took off my panties and started to lick, at this point I bet it was Steven. I used my hands and push her head in more, I felt more hard by the second as I was feeling pleasure that made me want to rape her. When I felt the sensation I wanted I let goes and I came on her face, all she did was stand up then licked her lips.
I stood up then pushed Steven on the bed then ripped his bra f then began to suck on his perky nipples. As I was sucking on his nice perky tits I slipped my hand down his panties and started to finger him. I couldn't help but start to finger myself as I was doing this like an other horny lesbian would do. Steven ripped off my bra then started to suck one of my tits, I wanted to cum again so bad but I think I knew what he was trying to do. So I fingering him faster and started to suck his tits a little more aggressively. I felt that my pussy was wet so I felt liquid on my hand and whe I turned around I see white cum on my hand and some on my arm.
I get up then Steven gets up and takes off his panties, he pulled me on the bed and his pussy touched mine then he started to rub. I pinched my nipples as I rubbed his pussy trying to go all out with pleasure. I felt that he was starting to go a little bit faster so I did to, I felt a small build up within me and I bet so did he. To try to end it off I pull out my pinched nipples and I climaxed then so did he, it went all over our bodies. I officially was really tired and so was Steven, I get out of the bed and walk over to the phone that was on the rawer full of clothes I should try on later. I texted myself the information I needed to my phone then the orange haired girl texted it to my phone as well.
I guess Steven didn't want this girl, now I knew where five girls are and they actually are hot and sexy and can entertain me. Right as I was going to exit Carlies body Steven told me no, I asked him why and he told me that we have plenty of things to do as these girls today because it has only been half the day which meant it was at least three o clock and we had some time left. I thought of an idea that Steven might like, I told him lets play with some things that can be used as special toys. He agreed then we started to look for some objects that could be used as sex toys. I can't wait for what coming next and for tommorow because now I can play with my crush for as long I Want.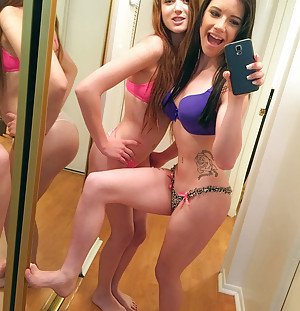 [ssba]