I loved flipping through those magazines, getting turned on by their skimpy outfits that revealed all the right curves. One day I got the monthly issue in the mailbox, and I was anxious to read it. I sat down on my couch to flip through it but I noticed that it was issued to "The sexist", but that's not my name. I thought it was slightly odd, but figured it was a marketing strategy to attract more men.
I continue to flip through it, oogling at the semi-nude women, when I noticed this young sexy women, in the traditional playboy bunny costume. I loved the way her boobs pushed out of the costume and how the outline of her lower lips protruded through the tight fitting outfit. I exclaimed "Man, I wish I could be inside her", wanting to fuck her pussy all night long.
Right after I said that the magazine slammed shut, and began to glow. The label began to change, from "The sexist" to "The sexy". "What was that supposed to mean" & "What is going on", I thought. Then I realized that the magazine wasn't the only thing that was changing.
My feet began to shrink, becoming small and painted with nail polish. My lower legs lossed mass, becoming toned and unproportionate to my body. My thighs followed, widening to adjust to my forming ass. This was hard to perceive since I was sitting, but I felt myself slightly rise as my ass added cushion under me. I quickly stood to see myself, wondering in disbelief. But as I did, I fell back down not balanced on my new feet.
When I did my shorts fell off, leaving me with just a shirt. I felt a tingle travel up from my feet, towards my crouch. I looked down to my formally male penis, sink into my body. It got sucked inside-out, leaving a wet pussy that soon swallowed my balls into my body. I screamed "What the hell, I am a man", in a feminine voice, not understanding my new found womanhood. It continued upward into my chest, forming large mounds, in the shape of breasts. The extra weight caused me to fall back down, still not used to the balance.
This time when I got back up my shirt lowered down passed my breasts, holding them in place. It then stretched down and around my pussy and up my rear, forming a single piece. I saw cuffs appear on my feminine hands, and felt a collar and bow-tie on my neck. Then when something formed, pressing hard on my head, that was when I questioned why the odd outfit. I walked up to my mirror to find a very familiar playboy bunny standing there.
"No, no, no, no…, this can't be possible" I thought. I inspected my new slit by feeling it through the cloth, sending waves of pleasure to my mind. "Stop it, that's not right" I told myself, even though I wanted more. I then sent my friend a picture of myself, asking what to do. He replied "Hold on, I will be right there to help you".
Now I regret ever asking him, I don't know if he is going to help me, or help himself.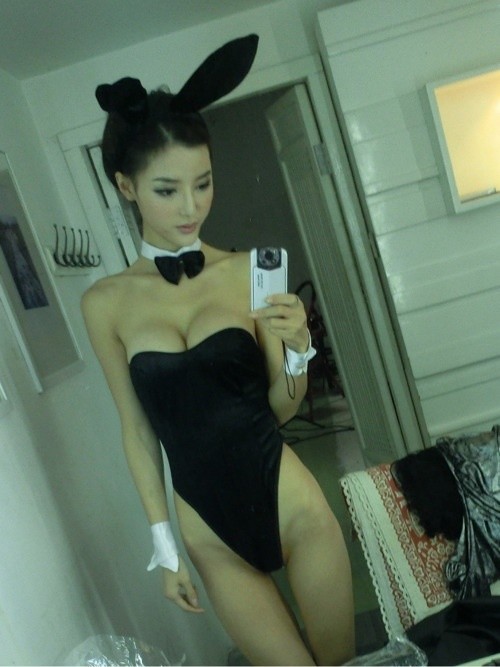 [ssba]