"You like that?" Marci asked.
"Ohhh, fuck me!" I moaned, still revelling in how sexy this female voice sounds when I'm aroused.
"That's the idea . . ." she said with a wicked smile, before once more burying her face between my legs. Marci was one of the sexiest women I had ever met. There was something about the way she carried herself – with a sexy strut and the confidence that everyone was staring at her. When she looked at you, it was like she was sizing you up, like she could see all your skin underneath your clothes. It helped that she also had a knockout body – lean and limber with perky tits. She's almost as hot as I am now.
Marci and I have been friends for a while, but until not too long ago, she would have had no interest in anything more than that someone like me. That's because she's a lesbian, and I used to be male. At least until a witch's curse turned me into this gorgeous piece of ass. Then all I had to do was send her a selfie with the word: 'Wanna have some fun?' and soon we were going at it like wild animals. I had always been more interested in men myself, but since I can only stay a woman until I have sex with a man, a hot, steamy cock just isn't on the menu. But sex with Marci is still way better than playing with myself. Like that thing she's doing with her tongue right now.
I think to myself: It's so good. I want more! I want it deeper, harder, I want a cock!
There I go again. Lately it's like I can't help thinking about cock 24-7. What would it feel like to hold one in my hands, to pump that shaft until it shot its sticky stream all over my face and my fat tits? Or what would it taste like? How much could I fit in my mouth? Nine inches? Twelve? Could I take a cock down my throat without gagging? Just thinking about trying sets my pussy on fire.
I should really be focused on Marci. After all, she's the one I've been sharing my bed with, and I think she might be starting to fall for me. But if her tongue feels this good, how would a cock feel? How hot would it be for a big strong man to plunge his iron rod between my legs? Marci's hands are small and gentle, but I'd rather have a pair of rough strong hands grabbing me by the ass as a man plows into me as hard as he can, grabbing my tits roughly while he makes me scream.
"Oh god," I moan as the orgasm begins to crest, "More!" I squeeze my own tits together and begin to thrash around on the bed. Marci is looking at me the whole time, and she seems pleased with herself for bringing me such pleasure. But as great as the sex feels, the truth is that I can no longer come without thinking of cocks – thick and rigid, spilling their seed, plunging into every opening of my body. I don't know how much longer I can go on like this.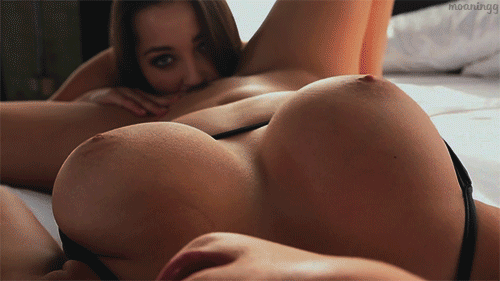 [ssba]