My friends and I had been obsessed with going to one of the basketball teams parties since we got to school. They were legendary across campus, and the standard all other parties were compared to. Trouble was, we were never invited. That changed tonight, though. It was Halloween. We'd show up in costume, and by the time anybody asked any questions we'd already be inside. My friends went to pick out the costumes while I got the booze. I told them grab me something and I'd pay them back later. That cost me; they wound up tossing me a sexy maid costume hours before the party. Well, I'd show them. This might work in my favor actually. I'm quite proud of my physique, and this showed a lot of skin, not to mention a pretty decent sense of humor.
We were in for a shock when we got to the door. Nobody seemed to be in costume at all. On Halloween! Their doorman took one look at us and said "Sorry fellas, no costumes. Strict policy." Then his eyes fell on me and he burst out laughing. "OK, I lied. No costumes except for you. Get in there!" He waved me in. "The rest of you, come back when you've changed."
I was taken aback, but wasn't going to say no. It was about as weird as you'd expect to be the only one in costume, let alone this costume, but I took it in stride. I definitely had an icebreaker. I saw plenty of girls checking it out, and all I needed was a joke or two to chat them up with and I had no trouble getting their numbers. After 15 minutes or so, I felt the mood shifting. The girls were all still staring at me, but they no longer looked happy about me being there. Meanwhile, the guys, who at most would laugh and give me a high five or something, now couldn't take their eyes off me.
Looking down, I immediately saw why. I had the body of a gorgeous woman, whose boobs were threatening to burst right out of their top. I ran off the dance floor in terror, and felt my tits make good on their threat. I found the first empty room and ducked inside to a chorus of wolf whistles and cheers. I tried to pull my top back up, but it was useless. My tits had definitely gotten bigger since I first noticed. For that matter, my waist was much narrower, and I was sure I had been taller a second ago. Just then, I heard the door creak open. In walked the guy from the door, and I hurried to cover myself.
"Oh good, I was worried you left. I think there's something I should explain to you. See, there's a reason we don't do costumes. We tried it once, and even sprung for a special soundsystem that changes people to fit their costumes. After all, how great would it be to have actual fairies, vikings, and celebrities. Well, turns out it's a huge mess. But, we kept the speakers, and it turns out the don't just work with costumes. Girls come dressed to impress, and their clothes fit a little better. Same with the guys. I don't know if you noticed, but they're almost all studs in there right now, cause that's how they dressed. And it's not just looks neither, everybody in there acts much more appropriately for their attire. Makes for a killer party." He must have seen my growing terror. "Don't worry, people are almost always back to normal after they leave."
"So… what," I squeaked, ignoring my new soft voice "am I going to, like, clean your house now or something?"
"Ha, no. You're a french maid, how much cleaning do you think they actually did? No, you'll probably be to busy as a coy little flirt to so much as dust a shelf." He chuckled, slapped me on my ass, and left.
As he walked out, the door man wondered if he should have given her the other warning he had. Not everybody went back to normal. It was found that if a man orgasmed more than three times, or a woman allowed somebody to cum inside her, the changes were sealed. Nah, she wouldn't need to know that. If she needs a warning not to do that, then she's probably better off staying the way she is.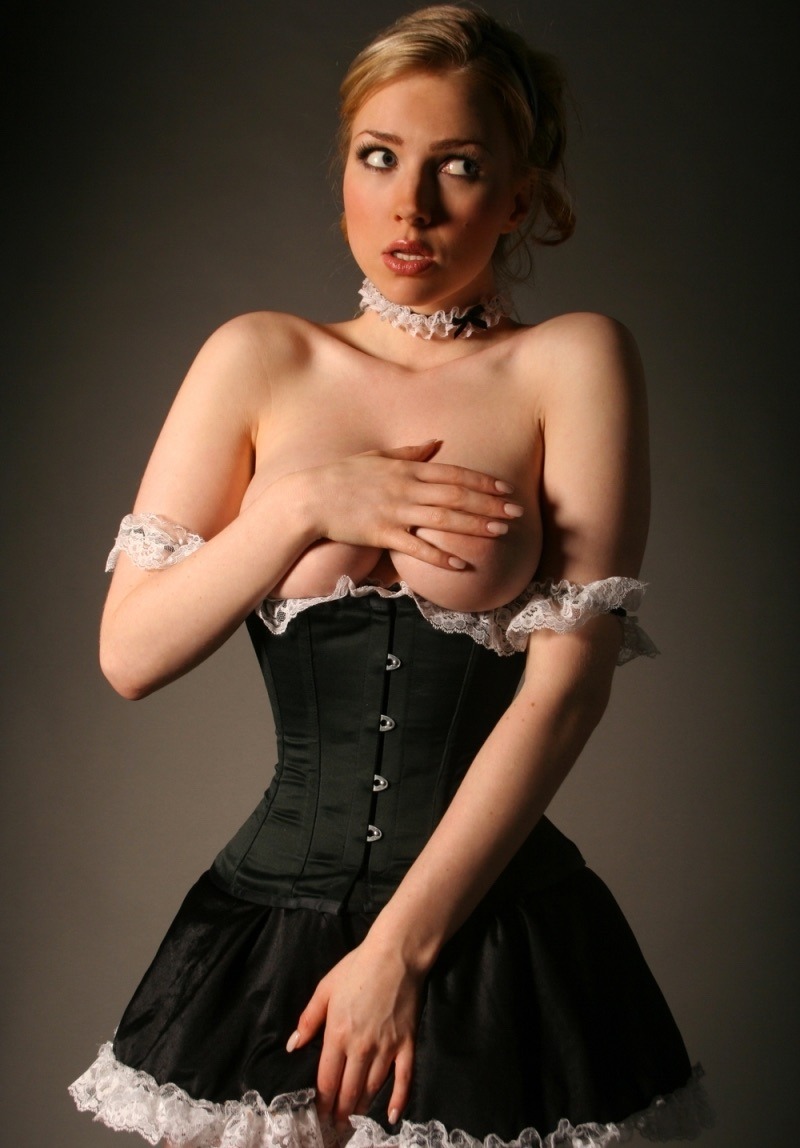 [ssba]