A few days ago, these boys swapped with their girlfriends due to an unknown cause. Without being aware they behaved just like their girlfriends but because it wasn't sunny outside they behaved the same as their former selves, more or less…
It wasn't until today a change in all of their behavious was visisble. While the former men cheered up because it was sunny outside. Nobody really put it in question and so the former girls in their boyfriend' bodies weren't cheered up by the weather, as if they never liked the sun.
Clearly they used to be tan blonde babes but wasn't them anymore. The new girls tried getting their boyfriends in the mood by washing their cars topless.
I'm Nicholas, the second on the left. I go by as Nienke now, I'm a Dutch girl and I love it! I think I found the source of this magic and I'll use it to get bigger breasts and besides having the prettiest face, I'll also have the prettiest body and figure.
I kind of used my new-found magic to get the boys in the mood, there's this nice atmosphere that makes everyone horny, we can expect a nice weather, perhaps with a few inches.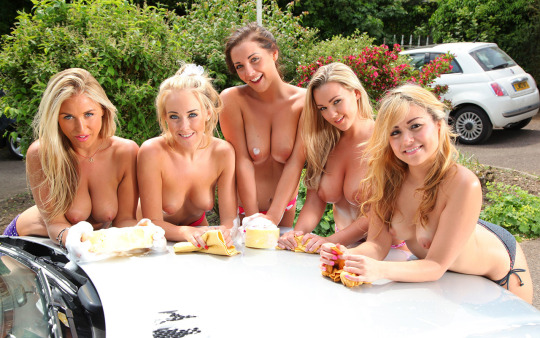 [ssba]