(Based off of this: http://opentgcaptions.com/enter/index.php/reader/read/24967)
My dad had left me and my mother a few years ago, so when I came into possession of the magic lamp, I knew exactly what I would wish for. I ran home and locked the door of my room, holding the lamp tightly in my hand. Mom had never seemed to be able to move forward with her love life after my father left us, but this stone was my chance to fix that.
I rubbed the lamp, and the genie emerged. "Alright, one wish," she said, and I nodded meekly.
"That's all I need," I said, trembling and thinking about how to word my wish. "I wish for my mother to have a new lover." I spoke clearly, and the genie snapped her fingers before disappearing. I opened the door of my room, ready to find out if it had worked, when I blacked out before I could take another step.
I came to with the feeling of something heavy and hot slapping against me, and a feeling of motion all over my body. I opened my eyes, and looked down towards the source of the motion.
"Oh fuck!" I shouted, seeing my mother's naked body grinding her pussy in between my own legs. But those legs didn't look like mine. They were bigger, chubbier, and as I looked along the rest of my body I saw it was the same. I felt her leg beneath me, sinking into the chub of my ass, as the knee of her other leg tapped the nipple of one of my new huge tits with each thrust. The genie had turned me into a sexy bbw: my mother's new lover! I had no idea she was a lesbian!
"Fuck yeah baby…" my mother said, moaning before pulling her leg out from under me and flipping to be on top of me, her tits dangling just on top of my own, which in that moment I realized were larger than hers. She leaned towards me, still grinding her pussy against mine, and planted a passionate kiss on my lips. I tried to resist, but found myself kissing back.
I was her lover, after all, how could I not?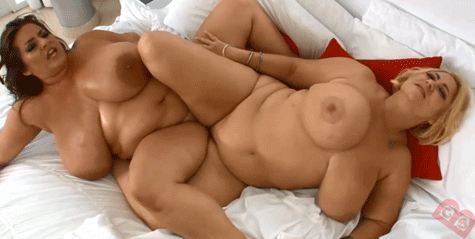 [ssba]