"We need to talk, be at your place in 30", that was the last message I received from my girlfriend of 3 years about half an hour ago. I was nervous, I loved her deeply and was hoping we would get married someday but here I am with sweaty palms worried about a potential breakup. I know she had been saying that she wants to get kinkier in the sack but I didn't think it had come to "we need to talk". Suddenly, I hear knocking at the door, it must be her, time to face any potential music and I go to open the door.
"Hey babe, what did you want to talk about?", I ask with a little shakiness in my voice. She comes and gives me a long seductive kiss and then places her hand on my arm, rubbing it seductively, "So you know how we have been together now pretty seriously for three years? Well there is something I need to confess to you now, and I had to wait three years to tell you.", says Holly, with a little lust in her voice staring deeply into my eyes. I immediately felt relieved and was beginning to think this is not the 'we need to talk' that ends up with a breakup. I begin to notice however she is really horny, the last time she had been like this was during our honeymoon phase in the first 6 months of our dating. "Three years to tell me what?", I ask almost excited to see where this is going. "Don't laugh, and have an open mind I will prove what I am about to say to you in a few moments, if you are willing.", Holly states, still howver seeming like she is ready to pounce on me at any moment. I decide to have an open mind and give her the benefit of the doubt, "Okay, I am all ears", I respond curiously. "So you know I said I was bi right?", she asks "mhmm, I know you hinted that you kind of miss having lesbian sex", I respond starting to feel the nervousness of a potential 'breakup' talk again. "Yeah and I have been getting really horny lately because I haven't tasted pussy in awhile, I am usually more of a demon in the sack with women but I do love me some cock as well and I do love you. But don't worry because I can see you worrying right now." she chuckles, "I'll come out and say it, I'm a witch, and I am not allowed to reveal this to anyone except someone I have been dating for at least three years, and I can prove it to you right now", she holds up her hand and a ball of fire ignites into a huge flame and then in the next instant is gone. "Wow", I step back taken by surprise yet still skeptical, "So, let's say for example you are a witch, what did you have in mind?", I ask very curious to see how this all relates to how horny she is. She currently is looking at me very submissively and biting her lower lip, but she is a witch shouldn't I be afraid of her and she be domineering towards me? Usually she acts like this when she has a big favor to ask me, and this one must be a doozey. She gets up close to me holding her body against mine and whispers into my ear, "I want to turn you into a woman, for the weekend and fuck you until we pass out from exhaustion… and then fuck some more", then she nibbles my ear and kisses my neck. I at this point have an instant boner straining against my pants, she notices and grabs it, "you can have this back when we are done… or not if you'd like, but I can tell you are getting excited at the idea.", she purrs. I have more lust in my brain than reason and I respond, "Okay, I'll do it, you can have your way with me.", I am so horny I can't even concentrate and I am beginning to get excited at the idea, even if she isn't telling the truth about being a witch we will be fucking tonight regardless. "Are you sure, I can have my way with you? If so, here is kind of girl I'll want you to be… I want you to be thick, wet, horny, perky and slutty", she says almost pleadingly, in a hope that I'd agree to be this type of woman. I notice with what reason I have left she is getting overly excited and turned on at the idea, sweat is starting to glean on her skin and her shirt is starting to become damp from it, exposing her perfect nipples through her shirt, I take a second to wonder how I landed such a hotty. "And for a bonus, I'll make myself as thick and as horny as I make you, fair is fair after all.", she smiles and bites her lower lip. "Okay, lets do it", I don't care at this point, I am so horny she could brush against me and I'd blow my load all I know is I like where this is going and I don't know why. "Follow me", she lead me to my bedroom.
We are now in my bedroom and she steps back looking me up and down, I ask "Okay, what happens now?", I am starting to get excited at the idea. "Undress, this will change your clothes in your room but you have to be naked for this to work", she commands me. I strip down and am completely naked in front of her with a raging boner, she looks down at it and says "Let's give him a going away present", she smiles and gets down on her knees and takes my full member into her mouth. She greedily sucks on it and gets me close to orgasm several times and then stop suddenly, "Not yet, your next orgasm is going to be as a full hot blooded woman", she kisses my dick and stands up and undresses. "I am changing myself too, this should be fun", she giggles. Wow, I just want to bend her over right now she is teasing me so much but I manage to restrain myself, because I am truly curious to see what happens. "Let's do this!", she grins wickedly closing her eyes and then snaps her fingers. I feel a sudden dizziness, and disorientation I have to close my eyes, everything keeps spinning I am too afraid to open them. I hear silence and then a moan "Mmm such a hotty." I hear a lusty voice call out, it sounds like Holly but it is dripping with so much seduction it washes over me and I instantly feel warmth spread across my body. I open my eyes and see a drop dead gorgeous woman standing in front of me, it's Holly, wow she is a thick slut 'wait did I just think that, I wouldn't call her slut'. She has such perfect tits, and a body that looks like it was made for fucking I begin to feel new sensation spread across my body, ones I have never felt before but am too focused on her and lusting for her that forget about myself. She is looking at me moaning, and rubbing her body up and down, lightly cupping one breast and fingering her pussy, "Why don't you take a look at the new you.", she oozes, I suddenly have a slight snap back to reality and look down. Holy shit! I see two perky breasts standing proudly on my chest, each with a silver dollar sized areola an very hard perky nipples. That explains the sensation I felt on my chest when I looked at Holly, it was my nipples instantly getting painfully hard from seeing this sex goddess standing in front of me. I took a step forward and felt a lot of jiggle, and looked down and back to see a thick ass and thighs, normally I couldn't see my ass if I was looking down, this thing protruded so much I could see it easily. Also, most noticeably besides the ass was the fact I had no dick, which explains the other wet and lubricating feeling I had when I was ogling Holly I took a hand and grabbed some of the thick flesh on my ass, instantly I got shudders of pleasure that ran up and down my body. It must have been a pretty visual display because Holly let out a laugh and said "Yeah all your erogenous zones are amped up to the max for pleasure, that body of your is built for sex, I would imagine it would be difficult to function normally in society with our bodies having such hair trigger pleasure centers". That's right, she did the same to her that she did to me, does that mean I have the same curves she does? I turn to the mirror in my room and see a fucking hot slut, with some nice cocksucking lips, I bet she could take a huge dick with no gag reflex and eagerly gobble up every drop of cum, this bitch looks like she begging for a good fucking, if I could get alone with her I bet she would ride me hard an love every second of it 'why am I thinking so dirty?', it must be the overwhelming arousal I feel at the moment. But wait, that slut in the mirror in front of me is me, this is feeling both strange and arousing that I am thinking of myself like this. But, looking in the mirror didn't help, I am turning myself on, I am not recognizing myself as myself and am getting hornier of the sight of a sexy woman who is in fact me, this is so weird and exciting. I feel arms suddenly wrap around me, one hand grabbing my breast, the other slowly moving down to my wet and eager pussy. I moan uncontrollably as she then presses her breasts into my back and her flat crotch into my huge ass and grinds it gently all the while slipping a finger inside of me. I orgasm immediately, get weak in the knees and slowly fall down onto them. "Lets have some fun shall we?"
This happened Friday night and it is now Saturday evening, we spent almost the whole weekend fucking and sucking, passing out in exhaustion only to wake up again and continue our ravenous sex games, which includes many toys and positions. I was starving it had been a whole day and I hadn't eaten yet, "I need to get something to eat!" I exclaimed, I felt like I may have had a moment of clarity and might be able to have enough self control survive the trip to the closest fast food and get something without fucking the closest person next to me . I got up in a hurry put on some slutty red shirt that barely covered anything, her spell must have made all my clothes slutty, the feeling of the fabric on my sensitive nipples made me moan slightly. I could already feel my pussy starting to get wet. I then started pulling up the first pair of pants I found. "I doubt you'll make it to the door", my girlfriend laughed, "Watch me!" I said defiantly yet knowing what she said was true. "Oh I'll watch that fine ass of yours walk away and come right back here and start riding me again", she purred tracing her finger on the mattress. I laughed and continued pulling up the hot pants that I had found, wow these were revealing, I bet I could easily find a hot stud to give me a good ramming if I were to go out like this 'there I go thinking like that again'. I finally got them up, albeit with some struggling. They felt nice, they were tight against my pussy and ass and were serving as a constant reminder that I was in fact an overly lewd woman wearing next to nothing, this though of course caused me to start to get hot in arousal I was determined however to prove Holly wrong… I started walking towards the door each step my breasts bouncing brushing my nipples against my shirt, my hips rolling causing the pants to tease my pussy every so slightly, each step was harder than the last. I made it to the door breathing heavily and could feel my pussy dripping, I couldn't take it and turned around surrendered to Holly saying "Let's order pizza", while taking off my top and getting back into bed.
That night we had a threesom with the pizza boy but at least we manged to eat. The rest of the weekend was filled with more sex and I hoped it would never end. I guess that this body being built entirely for sex gave it so many extra hormones and endurance that I never got tired, but unfortunately Sunday came and she had to turn us back, which itself was a task, it was hard to separate from each other long enough to cast the reversal spell but we finally managed to turn back 3AM on Monday morning. I was addicted though and she knew it, I'd even assumed she planned it that way and wanted me to turn back into what I was that one weekend. I missed feeling the femininity, and the feeling of breasts hanging and bouncing on my chest and the way my ass turned my girlfriend on with every step and most importantly the sex. I eventually approached her and asked her if she could make it more permanent arrangement, "I was wondering when you would ask", she giggled and said "I can change reality to make it so everyone remembers you as a woman, and maybe tone down the 'built for sex, constant hornyness' for the workweek so you can still function.", she offered, almost as if she was planning this all along. "Only in one condition though! If I need cock, I'll give you a cock to fuck me with for the night, if you need cock I'll give you some cock and also lets have some more of those lust filled weekends where I turn our libidos to the max". I nodded in agreement, she smiled closed her eyes and snapped her fingers.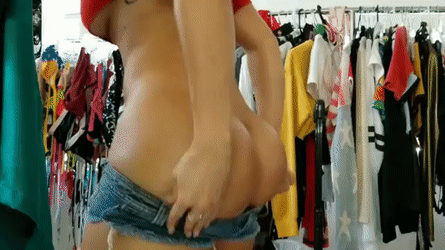 [ssba]