Hey, its been a few weeks since I snap chatted you, but I wanted to talk with you…this is going to be a long story.
You see,My girlfriend, Mary, loved going to the beach, she wanted to be there every day of the summer. But I was super insecure about going- I was overweight, out of shape, and the type of guy that got made fun of for spending too much time inside. It bothered her so much how much I hated going to the beach. But this spring, as she got excited about our spring break trip to Florida, I was a constant drag on her.
"Geoff, if you are so self conscious about going to the beach, why don't you get on a diet or start working out?"
I just shrugged.
The next day she came home with a bag from some store named "Bella's", inside were some smoothie weight loss mixes.
"Ok so the associate at the store told me that if you have one of these every day for one week, that you will be in better shape by our trip, promise you'll do it?"
She seemed to be hiding something, but I agreed. Didn't want a fight.
Nothing much seemed to happen the week of drinking the shakes. I had a bit more energy, and perhaps felt a little more emotional, but that was it… but waking up that Sunday, after my 7th day of shakes, I knew something had happened. I sat up in bed next to Mary and pushed back some hair out of my face. But that didn't make much sense, seeing as how I had a buzz cut.
I let out a scream that woke Mary as I looked down and saw that I had tits!
Mary looked at me with a smile. "It worked!"
"What are you talking about? You knew this would happen!?"
She just laughed. "You always hated going to the beach, and the owner of that store Bella told me that she had just the cure for making you love the beach- having you be a beautiful woman."
I ran quickly to the bathroom to look in the mirror, feeling unfamiliar breasts bounce every step…
But when I looked in the mirror, I realized I was gorgeous, that I in fact did love this body.
It was so weird- I remembered being a guy, and liked being a guy. But at the same time, I had it hit me that I loved being a woman.
Mary walked into the room. "So Dawn, should we go shopping for a new bikini for you today?"
Dawn..yeah thats my name now.
So we went shopping. And I loved every second of it. And I loved how I looked in a bikini.
We got to talking though- we both really want to invite a guy or two to come with us. Mary recommended me sending you a clip of me in this bikini….Oh I see that you screenshotted it. Saving a pic of me for the spank bank?
Well, I hope you think about joining me and Mary for our trip to Florida. I'd love to show you this Bikini in person. xoxo <3 Dawn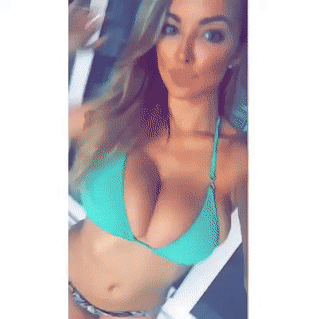 [ssba]