It was so interesting. Finding a device that could alter the genders of those around me. I didn't really believe it at first and initially brushed it off as been completely and utterly outlandish. I put it in my cupboard and put it to the back of my mind.
However later curiosity got the better of me. I had to see if it could do what it said it could. It seems cruel looking back on it but I tried it on my dog. Soon the old boy was a girl. No longer did he cock a leg up to pee. She squatted. After a few days I changed him back which caused him to go crazy. I changed him back to a she and the growling stopped. I assumed that maybe he liked being female.
It made me think. The dog enjoyed it so much. Maybe I could try being female, it was pretty easy to change back. If I didn't like it which I was certain I would, I would change back. Nothing lost.
I clicked the button and it happened. I became a woman. Tits, curves, long hair and a vagina. A woman. With the device I also altered reality slightly. I had decided that it was best I fully live through womanhood to make it realistic. I made all my male possessions their female equivalents and I changed my identity to Katie (3rd from the left).
I pushed myself to adjust. I swore to myself I would last at least a week. It wasn't easy. I wanted to fit in so I learnt how to walk in heels and do make up. It really requires quite intricate skills to make yourself look your best. Then there was sitting to pee which at first was purely humiliating.
It wasn't long before I began to consider the female gender. The pluses and minuses of being a member of the other side. I loved the plush bottom of a woman that allowed comfort as well as the space between my legs which meant for the first times my legs could come together with ease. I also enjoyed breasts and the cooling sensation of a dress or skirt. Not to mention the satisfaction of looking in the mirror. I soon decided that I would stay this way for a little longer and maybe share the joy with others.
Andrew, Larry, Byron, Nate and John were all great friends of mine. I proposed to them that they join me as a woman just to try. I went through all the benefits I had discovered. It didn't matter they stubbornly refused. I was devastated. I later decided that I may as well make them change after all I don't need consent.
Andrew became Anna (far left), Larry became Lauren (2nd from left), Byron became Bianca (4th from left), Nate became Natalie (2nd from right) and John became Jessica (far right). They were all quite distressed. I altered reality to match their identities and give them female possessions. I also made us all live in the same house.
It was great fun. Mentoring these new women. Teaching Natalie to do make up, Jessica to sit to pee and Anna to walk in heels. It was so much fun. It wasn't long before they embraced womanhood as much as I had. Soon, we had all agreed to stay this way forever.
I was so happy. I almost felt bad for forcing the others into this but at the end of the day I forced them to be happy. How can I feel bad about that? This is so good. We're living the dream. Wearing skirts and having vaginas. Living the dream. What Are Friends For?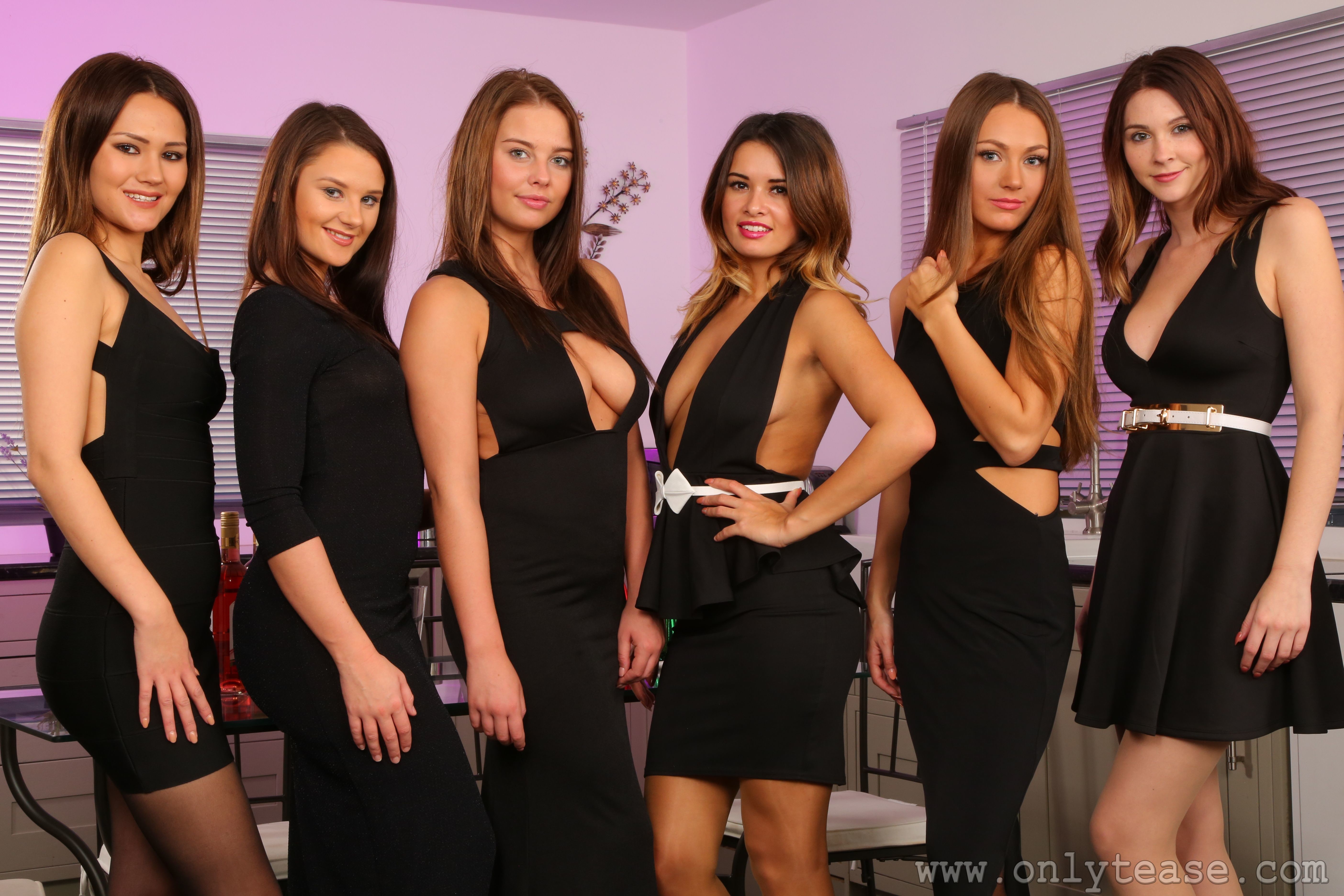 [ssba]