"Honey, it won't work like that. Simply wearing your old shirts and jeans and shoes doesn't beat that witch" Kevin's girlfriend said.
It's been two days since a witch cursed him and some friends of his for overhearing their conversation on tits. They agreed that big tits should be the standard on every woman and that they are there to be shown off. The witch was pissed and decided to use a special spell where the victims had to pick a detail. So she went to the boys and told them she liked their conversation and was thinking about plastic surgery. She asked every of the guys to write down a cup size that they would think would be fitting for her. Then she left. Since she was only a B-cup she was surprised by the answers. One said "Stay as you are", two said "D", one said "DD" and Kevin said "H". With that she finished her spell and made sure that everyone of the guys would be changed into a female version of themselves, getting the cup size they wished for.
"I know, she just laughed at us when we tried to find her the next day. But I'm still a man inside and I will prove that to her. I may sound like a woman, look like on in the face and I have tits and a pussy. Yet me and my friend will meet tonight with for our 'mens night'." Kevin said.
"Well honey, you know I'll try to support you, but why don't you try to grab your ass with your hands?" Lisa said with a smile.
"Why? That's no probl ….. fuck." Kevin says as his shirt rips open and reveals his pretty large boobs.
"Want some advice?" she asked and he nodded, trying awkwardly to keep the shirt closed. "Be as manly as you want, but with your body and appearence you can't deny some things. Follow them and it will be easier, less people will stare at you. First: call yourself Debbie, it's the big girl sounding name the witch gave you. More people will look at you when you say you are Kevin in that high pitched voice of yours. Second: I know you hate the idea of bras, but get a dark coloured blouse. It has room enough for your … melons there. Just keep walking, especially fast walking to a minimum. It will look ridiculous with your bust." she said and Kevin, or Debbie rather, nodded again.
So she left the house with his manly shoes and baggy looking jeans. The dark blouse had room enough for her chest but it was a piece of womans clothing, therefore it showed some cleavage.
Unnoticed by the former guys she witch was in the bar again too and almost laughed when she heard what the new busty girls were talking about. "Shut up … um, Rebecca. That blouse my girlfiend gave me can't fully cover my cleavage" Debbie said. "Right right" the new Tiffany said. "You show some cleavage … great. I shouldn't even have any. I wrote on that damn paper 'stay as you are' and yet she gave me also D-cups to teach me a lesson for my sexist talking."
A man eyed the group of busty women on his way to the bathroom. He was already a bit drunk it seemed. "Oh ladies, the lord gave you a gift and you hide it like that. Big tits are there to be shown …. " he said and laughed, leaving the group.
A minute later they heard a scream and the man came out of the bathroom again, his shirt ripped open, spourting a generous chest like Debbies.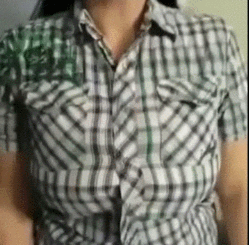 [ssba]