"You little cocksucker, Brent. You stole my laptop, to view porn," said Jeff.
"Yea, what are you going to do about it," asked Brent.
Jeff muttered some words, changing Brent's body and surroundings.
"There, now you can have your porn, and I can have my laptop back, BRENDA," said Jeff giggling.
Suddenly Brent was sucking on a huge cock, another was ramming his ass with balls slapping his ass, another in a place he shouldn't have while he was stroking another from tip to base with a tiny new hand! As he felt the men, and his new long hair, dangling boobs, wet penetrated pussy, huge hips, and large round ass, he realized Jeff didn't let him watch porn, he put him in porn, as the woman! Brent, now Brenda's eyes lit up as the guy in her mouth shot his load, giving the new cum slut the first taste of a man's love juice!
Jeff got his laptop back, and Brent now Brenda was left to a life of porn. What she stole Jeff's laptop to watch, now she was the main attraction of!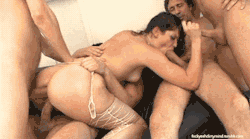 [ssba]