Trent and the rest of the football team found a magic stone that would give them one wish. They were there with Tiffany, and said she could be involved in the wish too. However she had a stipulation she whispered to Trent before the wish was made! Trent wished for them to be all changed per his wishes.
Trent and all of the football team, except for Larry were turned into enhanced versions of themselves, but Tiffany was turned into an enhanced male version of herself! Meanwhile Larry got the biggest shock of all, he was turned into a sexy blonde in a two piece bikini with ample boobs and new equipment below confirming his new womanhood!
Larry in his new female voice, said, "Wait a minute!"
Now he, no SHE was the only chick there!
Trent told Larry bluntly, "I'm sorry Larry, or Lara maybe now ha, ha! You're man card has been revoked. We think Tiffany was more of a man than you were so now she is on the team and you are just a cheerleader! Enjoy your pompoms, and I don't mean the ones you wave in the air, ha, ha!"
Larry raced for a mirror, and screamed, the stone was good for only one wish and vanished before her girly eyes along with any chance of her regaining manhood or playing football again! When she came back out, she seen the guys unzipping their pants apparently for her now, including Tiffany in her new male body!
"OH NO FLIPPING WAY, NO WAY GUYS, NO… UM… UGH LIKE WOW, LIKE YOU GUYS ARE REALLY BIG," said the new Lara.
That part of the wish just took hold, making the new Lara into guys with a ten times a woman's normal sex drive! She despite being dismayed at the change could not resist all those hunks, including the new hunk Tiffany became, now going by the name Terrence.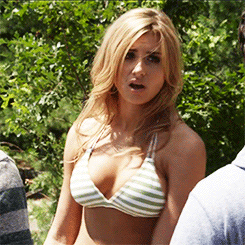 [ssba]