Jack had no clue why this white chick had grabbed him off the street and in broad daylight started making out with him. It had quickly escalated as the girl had practically dragged him in to her house and stripped the clothes off him. She stood back and marvelled at Jack's body "I've never been with a black man". She locked the door and started playing with her self "do you want to fuck me?" she asked in a seductive tone. "Hell yeah! Jack responded.
The woman crawled on to the bed "tell me how much you want me" she said as she wrapped her red lip around Jack dick. Jack start talking gently, complimenting her body but he soon realised she preferred him talking nasty. Soon Jack was close to climaxing, the woman pulled her wet panties to the side and in one quick motion took the tip of his dick inside her.
The blonde was a really hellcat in bed, she screamed and clawed his dark flesh. "Give me your seed" she scream over and over again like she was chanting. Jack was about to cum when he heard a door bang open "is that your boyfriend?" Jack said in a panic. "Just cum inside of me" she screamed as Jack heard what sounded like a old lady shouting for her grandma to stop.
Jack couldn't help himself he came harder than he'd ever came before, he pumped the girl's tight snatch full of his baby batter as the girl's body shook in orgasmic bliss. The girl climbed off of him and unlocked the door, an old woman lay on the floor crying, the young girl showed off the cum leaking from her pussy. "I'm sealed in this body for the next fifty years and there is nothing you can do about it, so get out of my house!"
Jack wasn't sure what was going on as the sexy white girl walk back in to the room and said "you're the best I've ever had, if you keep this up we can both swap with our grandchildren in fifty years". Jack smiled as the girl he had been planning to rob for the past week started giving him a titjob, he'd just found his soul mate.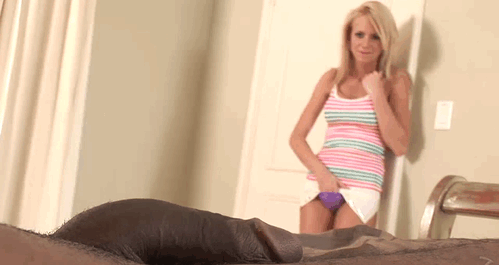 [ssba]