Ned was so for his football team, he said he wouldn't just take one for the team, but two for the team if he had to. However, his teammates didn't feel good about his abilities to pull through on that promise, he was the worst player on the field. With a little group magic however, the other team members were able to let Ned take two for the team, and still help them out!
Brent the quarterback asked Ned one Friday night after they lost a football game, "So you said you would take two for the team? I'm going to take you up on that."
Ned replied, "Yes I would anytime to help. I'm sorry we lost tonight, and if I could do anything for you guys you know I would."
Brent's eyes glowed, "Yes, you can take two for the team."
Ned agreed, then suddenly found himself at Jerry's house on his bed sucking his dick, with heavy boobs swaying beneath him, and long hair getting on his face and right arm as he was somehow stroking Ned! From behind Ned felt pleasure and pressure from being railed by dick in a place he's never had before, a vagina! Behind "him" was none other than Nathan another fellow team member. Ned looked back seeing it was Nathan railing him in a place he didn't have moments earlier.
Then Nathan turned Ned's head around pushing him back on Jerry's cock, as Brent walked in to see his handiwork made possible by almost the entire team's combined magic.
Brent smiled, "So Ned you said you would take two for the team, and this is helping relieve their stress of losing another game. I think you can help us out a lot better this way, and it doesn't matter whether we win or lose, you will still help like this baby. That's it, take two for the team, work them studs over baby. You turned out hot Ned, or should we call you Nancy now? Makes more sense now that you're a female now."
Ned, now Nancy's eyes lit up realizing what she had happen to her and what she was in the act of doing. The spell they used since it was combined power made the changes even more intense, her sex drive was off the charts, and she was a slut now, and into men. Part of Nancy wanted to pull away and scream, but the other part, the primal urge part was much stronger, and she wanted to finish what she had apparently started with these handsome football hunks sandwiching her on Jerry's bed! Ned couldn't help the team much, but Nancy really could no matter how well or not well they did on the field.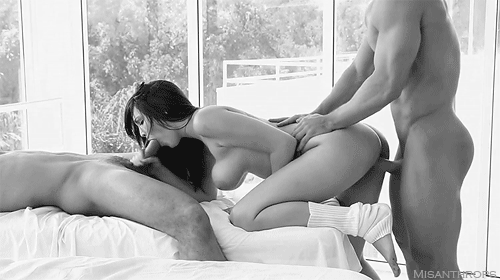 [ssba]