I was so engrossed by the book I was reading that I didn´t notice when Hank snuck up behind me and put something on my head.
The moment it was placed there my body began to shake very fast and I felt how my whole being was melting and rearranging itself.
My clothes disappeared and I was butt naked when the changes took place. I could see how my body became smaller and more petite and I could see how breasts grew on my chest.
My ass inflated with extra padding and my dick got sucked up inside of me.
When the shaking ended I felt a soaring pain in my brain. It was harder to think. Insticts I didn´t knew I had began to manifest themselves.
The pain in my head ended abruptly.
Somehow I felt invigorated and…hungry.
I had this yearning.
And as soon as I saw Hank in front of me I knew exactly what I wanted.
My pussy was already wet when he entered me. It would always be wet and ready for a man.
His dick penetrated me and it felt like the best thing in the world.
They way he grabbed me and moved me around just made me even more hornier, I was his submissive toy.
I would do anything he wanted. Even if he didn´t know he wanted it, yet.
In the mean time Hank grinned from ear to ear.
The Slut Crown had worked like a charm. His roommate had become everything he had hoped for.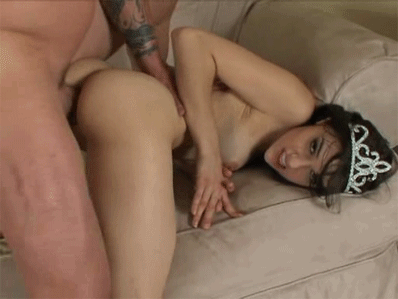 [ssba]