Christmas morning Jason ran to the tree to open presents but there saw the mother of Martin (his best friend) who was waiting for him
Martin-Merry Christmas
Jason-what are you doing here Mrs anderson?
Martin-giggle it's funny you call me like this
Jason-how should I call you?
Martin- I'm Martin
Jason-what?
Martin-I used a gun bodysuit on my mom, I told her all I wanted was to make you happy at Christmas, but she did not listen. so now it's my turn to make you happy. I saw how you looked at her, but you don't interest her. But for me it's different.
Jason-so your gift to me is …
Martin-I am. are to your liking? Do you like my boobs? They're so big they don't stop bouncing.
Jason-Of course! But your mother?
Martin-you do not like the gift that I have done to her?. This beautiful red dress
Jason-I love it. What I can I give to you?
Martin-you could start by treating me as if I were a real woman,my mother. Forget I'm your friend, and then finally fuck me as I always and you always dreamed of.
Jason-I'd like to be like this forever. -Kiss Martin passionately
Martin-Mmm maybe It will be. Marry christmas My love.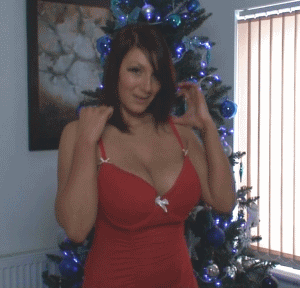 [ssba]