Like everyone else, at age 21 I underwent the government ordered mandatory gender swap. The change wasn't too bad and I knew at the end of a year I'd get to change back. I'd seen my sister go through it two years ago when she became my brother, and over the past few months my friends had been turning into women one by one. Now I'd be on the other side of the gender fence too.
There were a lot of things to adapt to, and after the gender reassignment I was given a lecture and a bunch of orientation material to help with the transition. How to put on a bra, how to deal with your period, how to use make up, how to shop for women's clothing. It was a pretty damned exhaustive list and even included instructions for different kinds of birth control! I hadn't been planning on being sexually active, but my new body did feel pretty nice. I knew I wouldn't be alone if I did have sex. Two of my three friends who had already under gone the procedure had decided to lez out together and the third was starting to get quite the reputation as a slut. I knew first hand because she'd given me a blow job before I got changed.
I settled into my new life as a woman. It wasn't too bad really, but something was definitely missing. A month in I decided to start dating. A week later I sucked my first cock.
It was indescribably incredible. I don't know how and I don't know why, but I fell in love with sucking cock immediately. I scheduled lots of dates with lots of different guys and always ended them with a nice, long BJ.
Then I started to get addicted to it. When I was at school I'd suck guys off between classes. I started sucking off my coworkers on breaks. In place of lunch I'd swallow a load of cum (or two or three). I'd go to bars and blow guys in the bathroom. I was completely insatiable. It wasn't uncommon for me to swallow eight to ten loads of cum a day. My record so far is 23 in a day.
I'm a little worried. No part of the orientation material explained how to deal with being a nymphomaniac cock slut. My friends who are my age (and now women) have stopped hanging out with me. My friends who are older or younger than I am (and are still male) still see me, but just because I'll give them amazing head. I'm concerned that I can't stop, but at the same time I wonder if I should even try to. The mandatory gender swap at age 21 is supposed to be a time to open young people's eyes and teach them about the world. To see a point of view they might never have otherwise.
I'm learning that some women are cock crazy sluts, like me. I'm also learning that I might opt out of the automatic reversal on my 22nd birthday. We'll see. There are literally thousands of cocks between then and now.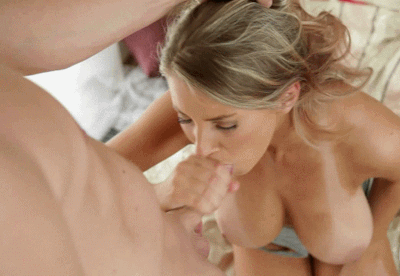 [ssba]