Joe had pissed off Cassie. He'd asked her for sex one too many times. The last time he called her a little sex kitten, and said he'd found her collection of toys in her dorm room. She screamed at him in some weird language and there was a flash of light. Joe was suddenly a naked woman and in his own dorm room. The room was unchanged except for the box of sex toys on the bed. Joe was nervous, but then he looked at the toys and started feeling something more… A need. And not just in his new pussy.
He pulled two of them out and admired the weight and girth of their phallic shapes in his hands. He wanted, needed to know what they felt like inside of him. On instinct he stuck them both to the wall and presented himself to them. Then he slowly lowered his way back on to them losing her virginity in her ass and pussy at the same time. He moaned loudly and couldn't stop himself. It felt too good and he was too horny.
Cassie watched and giggled in her magic mirror at the horny creature she'd created. She decided then and there that she was never turning Joe back.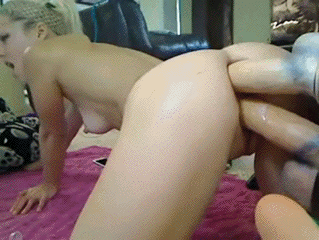 [ssba]