Ryan & Felicia were a fairly normal average couple.
Ryan works as a used car salesman & Felicia works at a hair salon and apart from swapping bodies with each other in the great shift not much has changed in their lives.
It didn't take the couple long to get back into the swing of things despite the gender change as they still loved each each other.
Ryan quickly found out that he quite enjoyed sex from the female point of view and started to see why foreplay was so much more important to women than it was for men.
Just Felicia sucking on his hard nipples made him so wet between his legs that made him yearn for more and despite the slight pain of being penetrated he discovered that the pleasure was well worth the discomfort.
Felicia enjoyed the freedom of being a man not having to worry about getting pregnant or monthly visits from mother nature and found it just as enjoyable being the one giving instead of taking.
She could not believe how much more turned on she was as a man than she was as a woman she could practically get turned on just by looking at the silhouette of a naked woman.
Felicia found doing her job was no different in her boyfriend's body and found that everybody that knew her treated her no different than they did before
Ryan on the other hand thought it would be easier selling cars in his hot girlfriend's body despite all his efforts none of the potential customers seem to take him seriously & because his sales reports were so bad he was now stuck at a desk answering phones and taking messages practically reduced to being a secretary which was almost as bad as being fired.
After another long and stressful day at work Ryan just wanted to relax in a nice hot bubble bath with some scented candles but Felicia had other ideas and he had not yet worked out how to say no to her as she pinned him up against the wall and started making mad passionate love to him which he was not in the mood for but he remember to moan and squeal in all the right places not wanting to hurt Felicia's masculine pride.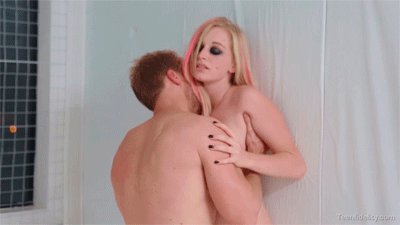 [ssba]