I live with my brother in a nice neighborhood close to college. When we moved here, we met our neighbor and his wife Ali. They are a cool couple. We usually invite them for poker night, sometimes they even go to the bar with us. But one week ago when I went to their home to invite them for a few drinks, Ali told me her husband was out of town, but if it was ok with us, she and her cousin Tiffy would love to play poker with us. I agreed, and at the time I didn't give much thought to the fact that she was dressed in sexy lingerie.
Later that night they both showed up. They were both wearing sexy clothes. Ali was wearing the same lingerie and a sweater, Tiffy was wearing the smallest skirt imaginable, and her breasts were about to pop out of their cleavage. We started playing poker, most of the night went as usual. But after a few drinks, Tiffy started hitting on me, and Ali on my brother. I don't know what had happened, but a few days ago Ali used to be extremely shy, and now she was trying to cheat on her husband.
I knew my brother, he wasn't going to sleep with a married woman, so he excused himself and went to bed. Ali looked upset, so she just left to her home. That left me with Tiffy. She was all over me, kissing my neck and all. "As much as I hate myself for saying this, I think you should go see your cousin, I think she was upset. Maybe tomorrow we can continue where we are…" I told Tiffy. "She's a big girl, she can take good care of herself. I want to stay with you" tiffy said. But I insisted, until she finally left quite upset too.
I went to bed, and looked out the window. I saw Ali leaving a box outside my front porch. I walked downstairs, and picked up the box. I openned the box, inside of it were only three items: a flower dress, some kind of winter hat, and a pink dildo. "why would she leave that here?" I said, while putting the box down. I noticed the dildo looked kind of wet, "I can't believe it! did she just use this?" I said as I touched it. I felt a small electric shock, and immidiately after, I felt aroused. "Shit, I should have asked tiffy to stay" I thought as I was taking off my pants to rub one out.
But no matter how much I did so, I just couldn't come. I was still turned on, I remembered the dildo was wet, "maybe it can help" I thought as I grabbed the dildo, and licked it. It was instantaneous, breasts poked our of my chest, my equipment retracted into my body, I shrank a few inches, my hair grew longer, and although I didn't see any of the other changes, I was sure my whole body had morphed into one of a hot woman. I was now fingering my own pussy. I was finally wet, but nowhere close to climax. I needed something inside of me. I looked at the dildo, and without giving it much thought, I shoved it inside my pussy. It was electric, I can't even describe how good it felt. I went on for a few minutes, until I finally had the greatest orgasm ever. I started to feel a little bit cold, so I grabbed the clothes that were inside the box, and decided to wear them.
The next morning when I woke up, the dildo was next to my face. So I did what any bimbo like myself would do. I shoved the thing inside my pussy again. I was moaning like crazy, which I think woked up my brother. He openned the door, and found me pleasuring myself. "Who the hell are you?" he asked. I looked at him, and felt quite embarrased. For a second or two I tried to hide the dildo, but a better idea came into mind. I threw the dildo at him "here catch!" I said. As soon as he caught it, he became aroused, I knew what was coming. Few seconds later he was a bimbo too. He tried fighting it, but I grabbed the dildo out of her hand, and shoved it inside her wet pussy.
We now go by the names of Kat and Emily. That day I went back to Ali's and Tiffy's house, I wanted to thank them and give them the dildo back. But they told me to keep it, or to give it to some one I knew was in need of a new life.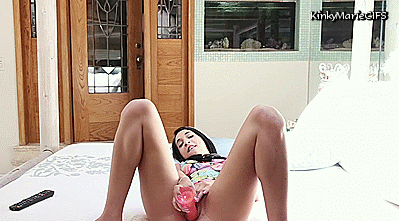 [ssba]