"Awww yeah! That body feels so awesome!", Chris chirped in his new angelic voice he borrowed from his sexy neighbor Melinda who just turned 26 last week. After he found out about an old spell from his grandmother where he could become a ghost and possess anyone he wanted, he quickly took his chance to get out of his own fat and nerdy body to fly into Melinda here, who's body he always envied.
The whole new experience of being a girl, the weight of his new black hair up in a bun, the lonely strand tickling his left boob, the feeling of his new female flesh bouncing with every movement on his ribcage, the emptiness between his long and sexy legs, the perfectly rounded ass, even the pearl earrings in his new ears, his new light and well proportioned body with it's tattoos and nicely done manicure on his new female hands made him shiver with excitement. He felt so energetic, he started to dance with this flexible body of a goddess she had been to him. He covered his fleshy beasts with his left and bit his right little finger as he smiled to his new self as he admired him in Melinda's mirror.
The thought of being fucked by men who found him attractive, made his new pussy tingle and really wet.
He quickly found some sexy thong, a baby blue low cut top, a really tight dark blue jeans to show of his acquired curves, white high heels and one shiny ring for each hand. To finish his outfit, he put the black necklace with the sparkling diamond he always liked on her, around his neck.
"I look sooo perfect I could fuck myself. Too bad I can't do that but I can get any man I want to do that for me now. I just hope her body can stand my nerdy sex drive, haha.", he said to himself looking at her body in the mirror and winked at her, now his, beautiful face while licking his lips with a wicked smile.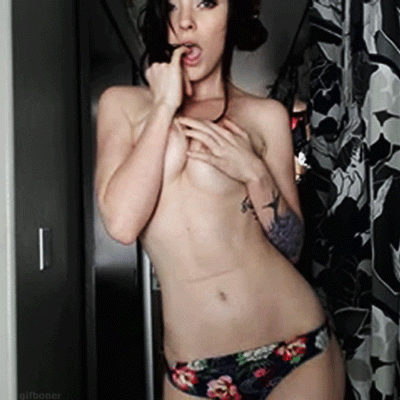 [ssba]