Wow, I was excited for this; today was, my day off. It's been years since I've been able to get my magical stockings out and prance around the house without my roommate around, which was my favorite thing to do on a relaxation day, sit back, masturbate in my gorgeous female form, but ever since I moved to college and found my roommate I rarely had the time. Today was, my day off, and this sexy body was going to be let out. I reached under my bed to grab the case I left my special stockings in, and even upon grabbing the case I felt exhilaration fill my blood.
I received both my stockings and rushed them up my hairy legs, then like the start of a fire; the burn of changes started rippling across my body. My hair receding, my legs elegantly smoothing, my feet became petite, and I could feel myself slowly starting to turn into a goddess of beauty and female lust. The changes reached my thighs as my ass perked into a cute heart shape, firmly squeezing my skin into something smooth and worth running for hours on end. As my balls started to suck into my body, and my penis being called in as well, I started feeling the warmth of female sex exploiting the edges of my mind. Then out of nowhere, the female orgasm started thrashing my imagination; the changes sped up. It was a race to my face, as my boobs blossomed into a comfortable C-cup and I was forced to play with them, while I eagerly rubbed my little clip that had appeared near the end of my lower halves transformation. With anticipation for the second female orgasm of the day I looked down to see my arms transform into thin beauties and lead down to manicured hands. As a basket of hair was dumped around my shoulders and twirling around in my eye sight, I screamed, "OOOOOOOO-LORD!" In my high soprano voice; a voice that could have gave me a wet dream just listening to it on repeat.
I had moved back; looking in the mirror, I was the girl I've waited so long to once again become.
Just then the door nob turned the lock door of my house, and I was exposed for my roommate to see in glory. I didn't know what to say; I was a naked girl, all cover in sex and wanting more, right in front of the man who had been living with me for a year. I mumble, "umm, haha, hi." That sounded like a nervous artifact of sex.
He replied, "Who's the sex god that I get to walk into on my break?!" The way he said it… So much power.
"I'm you roommate…" I squeaked in lust; my female hormones driving my sex as far as it could go, and it would go to him anywhere it drove. Always a him, I had to have his cock and it was all I could concentrate on.
"You're what?" He reply in a confused look.
I could see his cock rising as he couldn't stop looking my body up and down in lustful want. So I replied, "I, umm, look, I have the stockings that I put on when I want to relax. I just wanted to play around with myself, but now I guess this kitty is out of the cage; ready to play, she has you, and now you know about her secret."
His cock was getting harder and I was biting my lip. He replied, "That's ridiculous and weirdly hot. But, magic doesn't exist and how can you really explain this…"
"After you fuck my female brains out I'll show you, I'll even keep dressing up like this because now you're in on my sexy locked up secret." I replied in complete lust.
Moments later he was on the floor and I was inching my way down his full penis, feeling it fill my lustful void; he didn't care who it was; he was getting laid, but soon he would know that was me. I would be free to be a goddess for the rest of college, and he would get all the sex he wanted.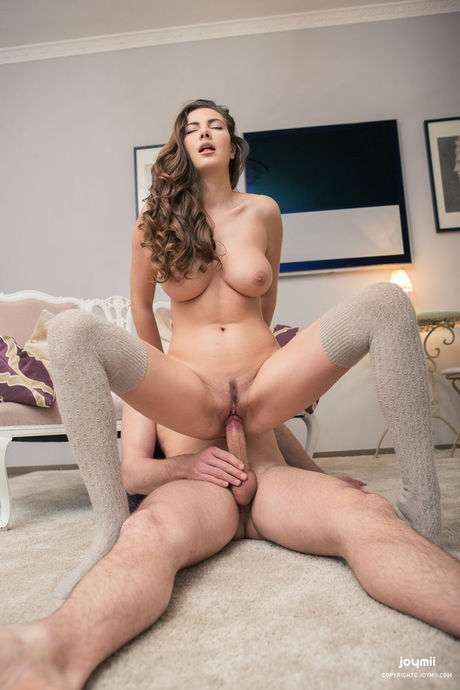 [ssba]