"I'm sorry sir… but there just isn't enough space. The room's filled. We can refund your payment, of course…" and the host kept rambling on with the excuses. I would not have it.
"Bullshit. I just heard one of your employee saying something in the line of not having enough people. Also, I spent some quite time to travel across country to join this sex party. You can't refund that." I said, as I smashed my hands on the table.
"Well… there isn't any mask left. My apologies sir, I can guarantee you a VIP spot in the next holding of the…" the host said. That is, as I was staring at unclaimed masks hanging on the wall on the back. In silence, I pointed at those masks.
"Then what are those? Seems like there's plenty of masks left here." I asked.
"Ah… well, they're the masks for female participants, of course. There's just too many men compared to the number of women. I really wish I could help you…" said the host, but all I was hearing was to go fuck myself. It didn't matter I made the reservation as soon as the applying cycle began, how I traveled all the way down here, or how excited I was for this year's masked orgy. I didn't have a mirror, but surely I had a distressed look. To which the host replied,
"Well… there is… a sort of a way…"
I didn't give too much thought. I told the host I'd take the offer. Which was, wearing the masks reserved for women–which will turn me into one. Apparently, not many men were willing to change their sex to join the orgy. Well, I was. Besides, I thought to myself, it's really kinky–which fit my taste in sex.
As I put on the mask, my body instantly shrunk to a smaller size, and my hair grew out longer. I investigated my new body by touch, and could feel the new feminine lips in place of my penis. Hmm.
Without giving much thought, I entered the room. The orgy was already going on. In my imagination I would pick some handsome man to fornicate me, but before even I could make up my mind for losing feminine virginity, a man grabbed me from behind, bent me over, and thrust his erect penis into my vagina. As soon as that happened, I knew I was in for some fun time.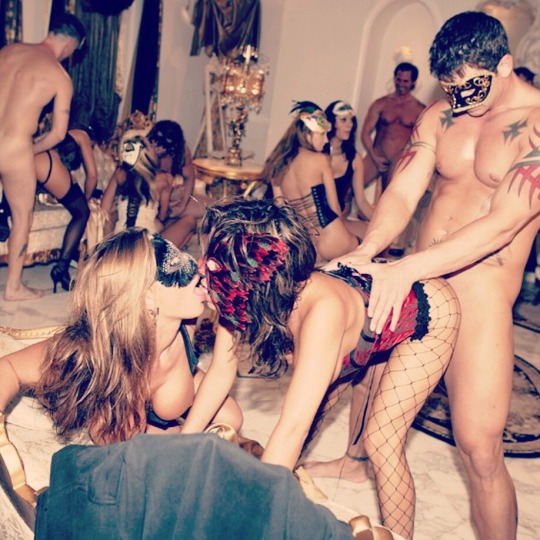 [ssba]