Tom had found the supposed "magical panties" at the weirdest yard sale he'd ever been to. When he asked the man who was selling them what the deal was with them, he said they'd make whoever wore them into a sex maniac. Thinking it was a joke, Tom asked why the old man was getting rid of them then? The old man just shook his head and said it was more trouble than it was worth. Since they were only $5, and Tom liked the old man's sense of humor, he decided he'd buy them.
When Tom got home he left the women's pantie in a bag on the coffee table and headed out for a date with this hot chick he'd met at the gym.
Fred, Tom's roommate, came home while Tom was out. Tom had no idea that Fred was a crossdresser, and when Fred found the panties he couldn't resist trying them on. Fred almost blacked out when he realized the panties had turned him into a woman! It was a dream come true!
Fred ran upstairs and slipped into a woman's tank top he had and started modeling to himself in the mirror.
Tom returned home to find a woman wearing the panties he'd bought masturbating on the couch. Horny, and shot down by his date, Tom didn't even ask when the woman rolled over and presented herself to him. He pulled the panties to the side and shoved his dick into her.
After they fucked Fred revealed what had happened. After hearing Tom's story about the panties Fred refused to remove them and begged Tom to fuck him again. After six times they both passed out on top of each other.
Fred refused to change out of the panties the next day and begged Tom for more sex. Tom, being male, obliged.
A week went by of Fred, who insisted on going by Freya, sucked, fucked, or masturbating all the time, never once removing the panties. Eventually they got so gross Tom refused to fuck her unless she washed them. Freya was scared and didn't want to go back to being Fred. Fortunately for her, by that time the magic of the panties had soaked into her, and the perpetually horny Freya was here to stay.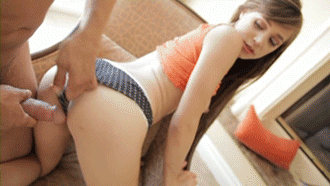 [ssba]