My name is Melissa. Believe it or not I used to be a guy. Not just any guy but a real stud, I never had problems picking up girls at bars and fucking them. Let me tell you how I got to where I am now.
About a month ago I was at the hot club in town Elixir. There was this group of hot girls dancing together. I started dancing with them and hitting on this girl named Jill. She had amazing cleavage showing off her D size tits. She returned the flirting and I knew I was going to get lucky tonight.
When we got back to her place we were naked and in her bed in no time. She then says the strangest thing to me. She says her breasts are filled with femjuice and if I drink it I will transform into a girl. She's telling me now so I have the option to leave and doesn't want to feel guilty. I tell her that it is impossible and she is just trying to get me to leave. She continues on. She tells me she wants me inside her more than anything. She then says that the other girls I was dancing with all used to be guys. Whatever, come here you hot minx.
As we make out I roll onto my back and she is laying on top of me. She then sits up and I look at this goddess straddling my waist. Her tits are perfect and I enjoy looking at her straddling me. She reaches down and grabs my cock. I watch as she lowers herself onto it. The view before me is unbelievable and her pussy feels amazing on my cock. She is riding me slowly and I see a liquid start to run down her nipples. That's got to be sweat.
She changes position and leans forward. I'm mesmerized watching her tits sway back and forth over my face as she rides my dick. We are both moaning and my mouth is open. That fluid is dripping from her nipples onto my body as she rocks back and forth. A drop lands in my mouth and it tastes incredible! I wrap my arms around her back and pull her bosom to my mouth. Mmmm her juice is sooo good. My whole body is pulsing and I can feel her juice pump through my body.
My skin feels smoother as our bodies rub together. I feel my chest growing and becoming firm. My nipples are rock hard and so sensitive. I feel movement on top of my chest? As she rocks back and forth my chest now has masses moving back and forth too. I can't stop sucking to even take a look, her juice tastes so good I can't break away for even a second. When one breast finally stops giving me juice I switch to her other breast. I feel her orgasm around my dick as her body spasms and pulls at it. Normally this would make me cum but instead I start to go limp. I feel my dick come out of her pussy but I don't care that I havn't cum. All I want is her tasty juice.
As I suck her breast dry I feel my balls suck into my body and my crotch area tingle as it changes. When her breast finally stops giving me juice I no longer feel the need to keep sucking. That is when I noticed a wet feeling between my legs. I looked down to see a pussy between my legs and two small mounds partially blocking my view! Fuck, I'm a girl!
In the weeks that followed, Jill and I have had amazing lesbian sex. I moved in with her temporarily so she could show me what I need to know about being a girl. Each week my breasts have grown. Jill says I now have femjuice and my breasts will continue to grow until a guy sucks on them. I don't want to give this to any other guys so I'm refusing to have sex with them. To document how big they get we are taking a picture every day. It's been 6 weeks since I was turned and I'm roughly a G-cup. This is today's pic. We don't see any stopping in their growth and I tell Jill I just can't take the weight anymore.
She smiles and says you're going to enjoy it soooo much! To be honest, I'm loving being a girl and some lucky guy is going to enjoy it too.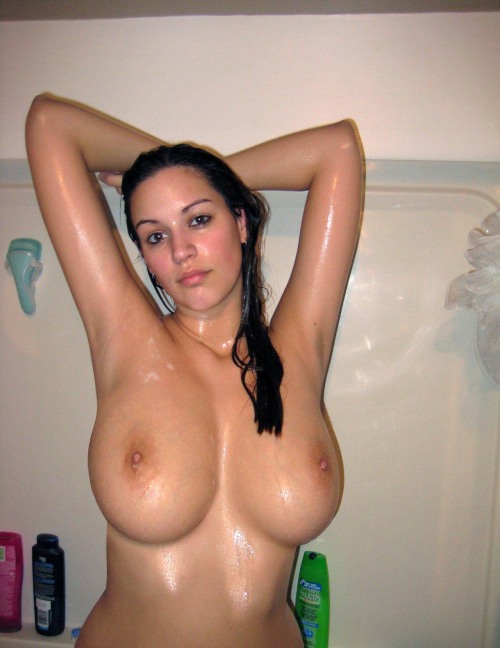 [ssba]