Scott was bored being trapped in the house.
He needed something to take his mind off his new body's urges that were making him feel uncomfortable.
He picked up one of his mother's cheesy love novels and started to flick through it.
He could not believe how quickly he got into the book it was not his usual choice in reading material but something about it appealed to him.
He could not help himself from caressing one of the large plump breasts that were hanging from his chest as he sat on the bed reading the book.
He was surprised by how quickly he was getting turned on by the passages of love making.
He was even more surprised by how much he longed to be the duchess that was now being ravished by a well hung stable boy on a pile of hay in the stable block.
He was so engrossed in what he was reading that he did not notice his best friend standing in the doorway watching him with his mouth wide open and his trousers making a pretty little tent.
As he continued reading the book ever getting wetter and playing with himself to his friends delight who had to nip off to the bathroom to sort himself out before he exploded in his trousers.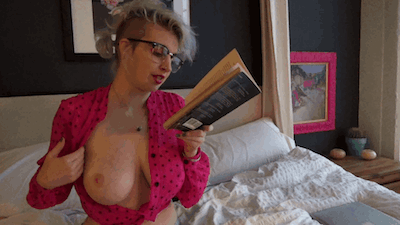 [ssba]