"Yeah Kevin, a magic remote! You come up with some stupid lies over the years but seriously? You drug me out of the weight room and all way back to the gym for this?" I said, not really clear why I even agreed to come down here. He just gave me a weird smile.
"Just wait, I only finally finished it on the way to school and it's almost charged. I want to let you be the first to see it in action!" He said eagerly staring at the battery pack on the side of the corny looking remote control.
"I'll show you in just a minute when the cheerleaders come through! Tasha is going to leave you for me, quit the cheerleading squad to become my personal maid and sex slave, and then all the other cheerleaders are going to beg me to let them join her in my harem.." He said, grinning from ear to ear.
Suddenly I was pissed. Kevin, the weird, overweight geeky nerd had been a target of mine for a while, usually because he was being annoying in class, throwing the curve high, or saying something pervy to my girlfriend Tasha, who he seemed to have an obsession with, and now he talking about some sick sex fantasy he has about her to me?
"Ok dude… good luck, I've had enough of your lies and weird shit, I'm out! Have fun wasting peoples time with your fantasy world, you fucking freak! Your lucky I don't pound you." I yelled angrily and headed back to the computer lab, hoping there was time to get a little more work done on my senior final.
That's when I wondered… why didn't I pound him? I wasn't friends with that freak, why had I even come when he asked me to? Figuring it must be stress, and cursing myself for not kicking that dorks ass for wasting my computer lab time, I headed back, knowing that I had one week left to turn in my senior project and I needed a good grade for my college application, my grades the only thing standing in the way of a possible football scholarship.
Suddenly, I forgot my train of thought as I felt a tingle and stopped in my tracks.
"Bryce, why don't you read me your student ID card info real quick?" Kevin said, suddenly standing next to me. I noticed the gym was now empty of people as well and a weird feeling came over me. I was about to actually shove Kevin and tell him to fuck off, when I felt the tingle again.
"Ok, if it'll get you off my back you freak. Bryce David Kirkwood, senior, 19 years old, male, 6 foot 1, 185 lbs, All Star football and basketball team member, lives at.." I felt the tingle again, and noticed Kevin had touched the button on his fake remote.
"Could you read that again for me Bryce?" He said again.
"Uh… ok, like fine!" I said rolling my eyes and tossing my long brown hair to the side. I was much shorter than Kevin, but I could tell he was staring right at my tits, although I guess I couldn't blame him, with how great they looked in my new push up bra and the skin tight, belly shirt tank top I had on today. It made my tits look even more amazing than usual.
"Like, just what I totally said… Bryce-Anna Daisy Kirkwood, junior, 17 years old, female, 5 foot 2, 135 lbs, cheerleader.."
"Stop!" Kevin ordered, fooling with his remote again.
"Ok you horny little slut, I just made sure no one will be in here for at least an hour… " more button pushing. I felt an intense tingle in my brain, and then tossed my long hair back, feeling my big, sensitive nipples harden in the cold air. I giggled, thinking how it seemed strange to be totally topless alone in the gym with Kevin, my tits hanging out, him staring at them with lust….
That's about the time, looking back, that I suddenly thought Kevin and I… oh god, it makes me sick to think about…were a couple.
The next thing I know, were kissing and he's feeling me up, my hand stroking his cock through his pants. Then, he sat and had me give him a long, very sexy lapdance, before finally telling me to suck his cock…
I hate the memory of it, especially how clear I can recall how it felt to have his huge, amazing cock in my mouth… it felt incredible! I hate it, but he messed with my life and mind so much that I can't help it… I love to suck cock. It makes me so horny… I think about it so much, especially when I'm around big, strong guys or all turned on and playing with my tight, wet, virgin pussy.
After having me use my hand, mouth and tits to work his dick, I sat with my tits held together, begging for him to spray me with his cum, before sucking him even faster, until he finally came, blasting his huge load all over my tongue, face, hair and tits as I moaned in pleasure, the cum making me even hornier, my head between my legs and rubbing myself… and, after his whole load was on me, I started to cum as well.
Kevin did steal my girlfriend, who now is my squad leader, since Kevin altered reality so I was never on any sports teams, only a cheerleader. I still lust for Tasha, but this fucking body won't respond, usually only reacting when I see her with Kevin, her boyfriend, and, I can't help it, that's with jealousy and envy and lust. I know he's the one that took my manhood, my life, my identity and made me into a slutty little cheerleader, but when he's making out with Tasha, my former girlfriend, I feel jealous, and imagine myself in her place, getting to touch and suck and stroke Kevin's amazing, huge, sexy, perfect big hard dii…
Fuck! There I go again. God I hate him, trapping me, the star football player, a 19 year old man about to go to college, with the hottest gilr in the school as my girlfriend and making me into a fucking chick, one who…
"Hey Bryce!" Daniel said, suddenly standing next to me. I wanted to run, but his voice melted me and instead…
"Hey cutie! Like, I missed you baby!" I said, throwing my arms around him, leaning up to the much taller boy and meeting his lips, moaning as we gave each other a passionate, intense kiss. His hands groped my ass and tits and I felt my pussy begin to throb.
"Damn girl, your such a horn dog!" He said as he pulled my hand away from his crotch. I stuck out my bottom lip and made a sad whining noise, knowing we wouldn't have time to fool around until after class.
"Oh like, you know how worked up you get me… like and I totally know you'd love to get your hands on my slutty little body…" I said, squeezing my braless, D cup tits through my cheerleading team sweatshirt. My frustration combining with lust came out as a sexy moan, feeling my nipples become erect, knowing that I'd get even more teenage guys oggling me now, my big, sexy tits always drawing stares since I never wear a bra, Kevin using his remote to make me unable to put one on, and instead just jiggling, bouncing and making me look even sluttier every day, my sensitive nipples getting hard constantly and making me have to sneak off and finger my pussy for relief, hoping that it will keep me from giving in and making myself Daniel's sex toy yet again.
Daniel, Tasha's younger brother, had always seemed like a nerdy wimp to me, but now, because of fucking Kevin, he drove me crazy. He made me wild with desire, and I pretty much needed to make his cock cum at least once a day, or I'd keep getting horny no matter how much I masturbated, some days having to pass my usual frustratingly inconvenient four or five sessions of playing with myself for up to ten or twelve, unless I can make Daniel cum. More of Kevin's remote work, I knew, but I couldn't fight it. I was Daniel's girlfriend now, and a total horny slut.
Kevin's loved to torment me, laughing and teasing me about how he was dating my girlfriend,and now, I was sexually obsessed with her younger brother. He made it so I can barely understand football or basketball anymore, unable to follow the games at all, but I'm an amazing cheerleader, great at doing my hair, nails make up… everytime he see's me, he's always hitting that remote, I feel the tingle, and another part of my male life slips away.
Before lunch today, I saw Kevin and Tasha in the hallway making out, and I glared at Kevin. He saw and stopped to laugh. Tasha said hello and said how happy she was that I was dating her little bro, and what a cute couple we make. Kevin laughed as I blushed, and then said that I was just waiting to get old enough to try and steal him away from Tasha. They both laughed, but, as Tasha leaned against him and started kissing him again, I knew it was true. I was jeleous.
I hated it, hated the forced mental changes Kevin had done to my mind. I fought for a day or so, but, after blow job after blow job, finally I gave in and begged him to fuck me, to make the need in my pussy go away, and boy… he did. I'm positive Kevin also did something to Daniel's sexual prowess and drive, but his cock is over ten inches long, and he's a maniac in bed, taking me every possible way and making me cum so much that I sometimes even black out when he's fucking my tight, slutty little cheerleader pussy.
Yesterday, two weeks to the day of me becoming Bryce the teenage girl, Kevin saw me in the hallway, and smiled, asking how cheerleading was going. I somehow, amazingly became angry enough that I was able to tell him to fuck off. The second I said it and saw the anger on his face, I knew I should not have said that.
"You seem to need a little more attitude adjusting… huh?" He said waving the remote towards me.
As I stand in the gym coach office and he tells me that I can't get caught making out with my boyfriend during gym once more or he's going to fail me when he trails off mid sentence.
I suddenly can feel him looking over my body, my legs, my ass in the tight shorts I have on today, and then, of course landing on my big, sexy tits, nipples hardening and showing my sudden excitment clear as day in the tiny tube top I'm wearing. I look up and smile my sexiest smile, lick my lips and ask him if he's ok. I see his eyes still on my body, on my tits, then lustfully on my face.
I strip my shirt off, just like I do everytime I notice a cute guy looking at my tits. That's the punishment Kevin gave me for back talking him. He said If I behave he might take the punishment away, which would be great because it keeps getting me into more and more trouble.
Coach, who is around 26 years old and married moves closer to me and looking up, I wonder how I never before minutes ago saw how incredibly fucking hot he is. He brings his hands up and grabs my tits, squeezing them and pinching my nipples until I begin to moan.
Great. Now I'm fucking the coach because of my new compulsion to show my tits and how horny it makes me. I found this out the hard way in the last 24 hours, after I found myself topless for the pizza delivery guy, a sexy slightly overweight 19 year old drop out named "Larry", who,instead of a tip, got to feel up the best set of tits in 10th grade and then get to stick his cock between them and let me fuck him with my tits until he blasted them with jizz. The same thing happened an hour later with the clerk at 7-11, and then, in the morning, with a jr high student that was walking by me on the way to school. I've fucked four different guys in the last 24 hours, including my boyfriend…
"Oh god, your cock feels so fucking good coach! Fuck me harder like the little slut I am!" I scream out as I straddle him and he pushes into me, bucking his hips as I roll mine and we start fucking like animals. I thought this couldn't get any worse, but Kevin's last change, making me into such a slut that I'm about to cum all over Coach's cock as I fuck him… this is the worst yet… and it feels so good I'm starting to think I should just give up and start giving in totally to my new life as a horny, teenage nympho cheerleader fuck slut.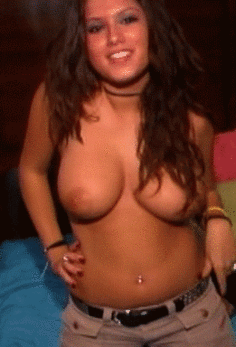 [ssba]