Katie, you have to help me! It's me, Barbie Dahl. No, dammit.! My name isn't Barbie, it's Barbie! I mean, I'm Mr. Miller's personal secretary.
I'm sorry, Ma,am? Yes, I suppose "Katie" is an awfully informal way to address the chair of the board of Colton Pharmaceuticals. I apologize Mrs. Solomon.
Do you have an appointment?
You're here to offer Mr. Miller the position of CEO because of his brilliant work in applied genetics and behavior modification? But isn't CEO your husband's job?
I see. No one has seen or heard from your husband in weeks. That's actually what I was trying to tell you earlier, Ma'am. I'm Barbie!
You think I look very pretty? Thank you, Ma'am.
Your husband loved fucking pretty young secretary's like me behind your back? I'm sure he feels very, very sorry about that, Ma'am, and hopes you forgive him.
*BZZT*
Yes, sir. Mrs. Solomon is waiting for you. … No sir. I am sorry for keeping her waiting, but you explicitly told me you were not to be disturbed. I'm sorry, sir. You are right.
No, sir! I don't believe I have been so naughty that I deserve to be punished! I am sorry for being so chatty with a superior. I will be a good girl in the future.
Please sir! Don't punish me! Not in front of Kat.. I mean, Mrs. Solomon! I'm begging you.
SMACK
Oww! Thank you, sir! I have been a silly little bitch.
SMACK
Ouch! I know I wasn't given this position because of my brains, and that there are much better uses for my mouth.
SMACK
Ooohh! Why does this always make me so wet? It's humiliating. Please fuck me, sir. Fill my pussy with your manly cock. I need cock.
SMACK
What's that? Yes, Ma'am. I guess I am learning to enjoy my new position. I appreciate that you will be checking in on me from time to time.
SMACK
Ooooh! Harder, Sir! Harder! I've been a naughty slut!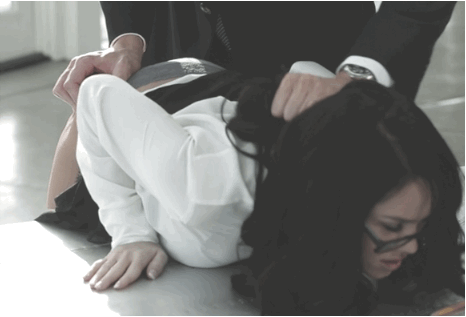 [ssba]