I heard a call from the bedroom as I stood nervously in the ensuite.
"Get in here now Red before my balls bust!"
I thought of the 6ft 2in tall cowboy who was there lying on the bed with pants around his ankles, and his 9 inch dick standing to attention waiting just for me.
I was starting to get all moist between my legs just thinking about him.
It had been 6 months since I answered the the ad looking for healthy young men to work on the ranch.
Great I thought, outdoor work, fresh air and working with animals, but little did I know they wanted us just to the do the work that the Ranchers wouldn't.
It turned out our job was to give all the cows on the property an new experimental chemical which would make them super fertile as well as make them super attractive to the bulls. The cows would be permanently on heat and bulls always wanting to serve them.
Whether the Ranchers knew about it or not I will never know, but the chemical also had an effect on all us workers in the same way as it did on the cows.
Over those 6 months we workers had eventually turned into super fertile females attracting all the male ranchers.
I slowly transformed from a slightly pudgy middle aged balding man to a young voluptuous twenty something redhead.
So as I stood in the doorway my heart was racing.
I took one last breath, flicked my red locks and ran my hand over those new curves.
I don't think this cowboy knew what he was in for…….he was going to need a few weeks off after I finished riding him!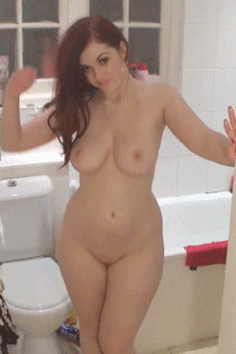 [ssba]