As a man, I really did love my bisexual wife and loved her unconditionally – however she did have one condition that I had to comply with. With few exceptions, on Friday night at 11:59 pm she changed me into a woman.
I never knew what kind of woman I would be for the weekend – tall, chubby, skinny, big boobs, nerdy, small tits with big puffy nipples, tiny body with a big bubble butt or maybe a supermodel. I was her fantasy girl for the entire weekend, the only thing that I knew for certain is that I would be extremely horny. It seemed like a reasonable arrangement, as a man, during the week days I enjoyed her lady parts and two days a week I returned the favor as a female.
Not every weekend however. If there were projects to be done around the house it just made more sense to remain male, though she often gave me a vagina just for a laugh. That was always awkward because my hips were much wider than usual and I often got some strange looks from friends that dropped by.
But not today, because today I was a beautiful, thick woman with amazing, wobbly, full breasts and my wife was enjoying every part of me. I just hope the neighbors aren't home….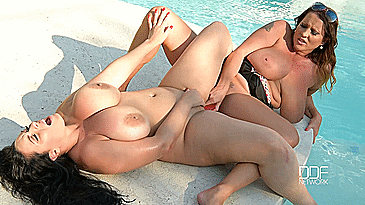 [ssba]