Jed and Ned were hot and thirsty from being outdoors. They unscrewed Jed's garden hose, and turned on the water with Jed grasping the water faucet with his hand out to get the cold water for them. Suddenly they blacked out, and when the two came too, things were different!
Jed found he was grabbing a penis, and catching the cum that came from it, as Ned was still staring in anticipation, only now seeing cock and cum! The two realized they felt different, and were grossed out at what they were now doing! They both looked down to see massive breasts on their chests, and as Ned grabbed his, he seen his super long orange nails dig into the soft tit flesh! They both reached for their crotches, finding pussies as well, very wet ones! What was worse, for some reason the cock was looking good to them as they looked back up at it, as if they were thirsty for cum not water now!
The guy said, "Wanda and Daphne, are you two going to drink my cum and get me off again or what? You said you were both into this two girls and a guy thing, and you were thirsty for cum. I'm losing the moment here, let's go bitches! By the way I can smell your pussies from here, and they smell sexy!"
The two new girls looked at each other and screamed, and Jed, now Daphne grabbed the cock again, freaking out, "I DON'T HAVE ONE OF THESE ANYMORE!"
Then the news came on at the man's house, stating the Great Shift had hit their small town, meaning the two guys must have gotten the bodies of two cum sluts, no longer thirsty for water from the tap, but cum from the cock! As their new pussies soaked the cotton crotches of their shiny pantyhose, they realized they were turned on by men now, and screamed again taking in their own pussy smells!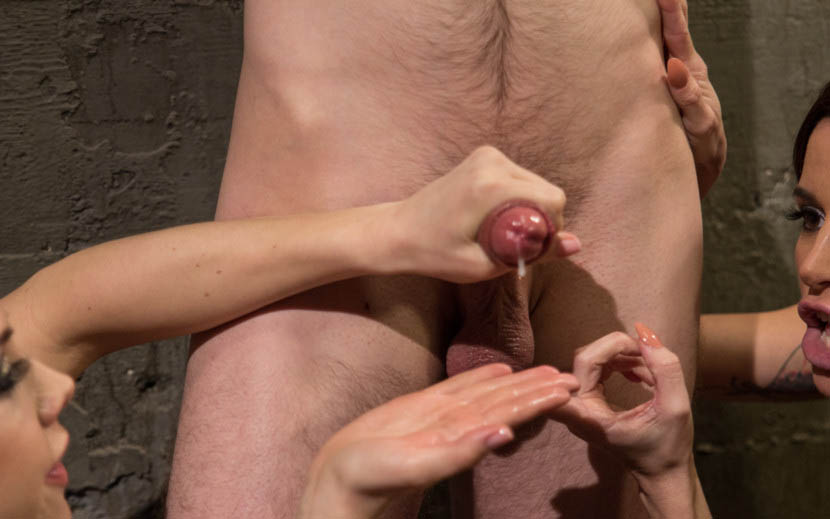 [ssba]