Sarah hated it when her husband asked her for a tit fuck.
She hated the way his cock rubbed up and down between her tits.
She hated the way he always manage to shoot his cum all over her face.
So when she got the opportunity to swap places with her husband for a couple of days thanks to their marriage counselor she knew what she was going to make him do.
She could tell by the look on her face that her husband was not enjoying the experience as much now that he was the one with a pair of breasts & having a cock sliding up and down between them like a loaded gun not knowing when it was going to go off.
But her on the other hand was enjoying it from his point of view.
As she was shocked by the sensation of power she had over him as she stood there staring down at her own pretty face and her husband big cock sliding between her ample breasts.
She could understand why he enjoyed it so much now as she experienced her first tit fuck from the male point of view and shot her first load all over her pretty face which really disgusted her husband inside her body who now understood why she did not like it as he stare up at his masculine face with the smug look of satisfaction on it which really annoyed him.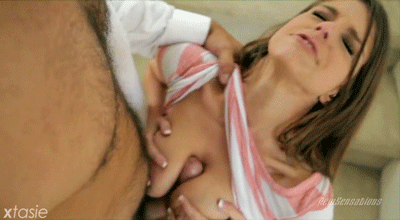 [ssba]