Getting a little involved with this series as well, and have no idea how long it will go for. So if you have a setup you would like to see I would be happy to work it in.
The next week was utter torture for me. Every waking moment I was thinking about how I had willingly barged in and changed into a girl so I could give John a blowjob. The thing was, it was torture not because I was embarrassed or ashamed, but it turned me on and I couldn't get it out of my head.
My work was starting to take a hit, and I took a couple days at the end of the week off, hoping to clear my head. The good thing was that Tiffany and my sex life improved dramatically. All I had to do was constantly imagine that I was on the receiving end of the dick and I was ready to go.
Friday night I had been invited to a business party, and I kept it a secret from Tiffany as I wanted John to go with me. I rationalized it to both myself and him that it was a party for my company, which was paid really well, and it might get his foot in the door. Only in the privacy of my own head to I admit what my real objective was.
It was a formal affair, and we both went in business suits, and for a while we enjoyed ourselves, sipping wine, snacking on food, and talking business, money, and politics. After about an hour I got very anxious and I subtly motioned for John to follow me.
When we were finally in a secluded spot of the hall I turned to him and said. "Look, the real reason why I brought you here. I really wanted to come to this party wearing a little black cocktail dress and showing off some leg, but since I would look a little ridiculous in a dress, I really need to walk back out there with a pair of tits on my chest."
John was only too eager to oblige, and he unzipped his fly, letting his dick pop free. I felt a now familiar sensation as my body shifted, and I could feel earrings dangling from my ears, long curly blonde locks cascading down my neck, and a tight little black dress wrapping my body.
"Thanks lover, now time for your reward." By now I knew exactly what turned him on, and I plunged my ruby red lips down on him. This time instead of bringing him to orgasm immediately, I brought him right to the edge and then backed off, I did this several times until he grabbed the back of my head, forcing me to deepthroat his dick.
As he did this I felt a tidal wave of cum flood into my mouth, and I savored it's wonderful taste before swallowing every last drop. I licked him clean again, taking my sweet time about it. By the time he was good and clean he was getting hard again and I decided another blowjob was in order.
"you know," he panted. "You already got a load, you're going to change back."
Pulling my lips away from his dick I responded, "I know, this one is just because." And I plunged my lips back down on his delicious cock. He had a lot more stamina this time, despite all the moves I was throwing in to get him to cum, and after about 10 minutes of this he came again, and I eagerly gobbled down his love juice again.
We took several minutes to clean ourselves up before finally rejoining the party, and sure enough, everyone knew me as Katie, no one knew that only half an hour before I had been Kyle, nor that I had come in a suit and was now wearing a dress. They also believed that I was John's girlfriend, which was a part I all too eagerly played for the rest of the evening.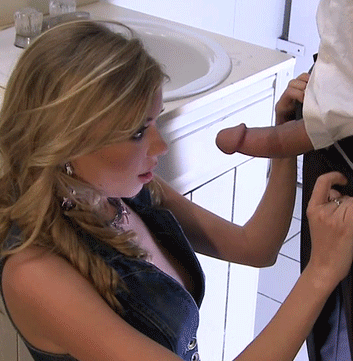 [ssba]