What the fuck is going on? I used to be a guy. A straight guy. Then me and my friend Tom find that book of spells and poof! The first spell we try turns me into this girl. Tom starts to freak out, but I just look at him and start to get turned on. In my heart I was scared, but I really just wanted him. I kissed him and starting running my hands over his body. I reached down and felt his cock start to get hard in his pants. It was so big!
Tom tried to complain, tried to pull away, but when I started rubbing his cock and said I wanted to suck it he relented. I couldn't believe I wanted to suck it! We both stripped and then I was on my knees in front of the couch, stretching my lips around his massive cock. I looked up at him and he stroked my hair. I loved the way he was looking at me. Loved the taste of him in my mouth. My pussy was aching for attention, but I resisted. I felt my tits sway on my chest and kept working my mouth on his cock until he squirted in my mouth. I stayed there, looking at him as I swallowed it, waiting for the next move. His eyes were still hungry. He lifted me up and kissed me, then reaches his hand down and started finger banging me. I came almost instantly.
We fucked four more times that night, and when we came to in the morning Tom admitted I was the best fuck he'd ever had. I blushed, turned on by the comment. He said he'd miss his friend though and was going to try and turn me back. My stomach was in knots, I wasn't sure I wanted to give up the body I'd been given, being Tom's sex pet.
I didn't have to wait anxiously for long. Tom found out that contact with cum made the spell permanent. He was distraught and apologized profusely. I kissed him to silence him and started rubbed his cock through his leg and the events of the previous night repeated again. I realized I could be happy being Tom's girl and nothing else.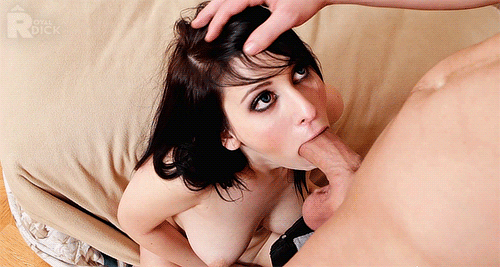 [ssba]