"Okay, right leg, aand left leg," I said as I stepped out of the shower. When I had agreed to swap bodies with my pregnant wife I hadn't really thought about how much I was going to have to get used to. At least for her it was a slow progression, but I became seven months pregnant literally overnight, and that was a month ago! Plus, I had to get used to stuff like having to sit to pee (which this baby makes sure I do often), and these breasts. I know I'm pregnant and this isn't what they're like all the time, but I still don't know how women deal with them all the time. I mean, I love a nice pair of tits as much as the next guy, but now that I've been on the other side of them it feels different. All that said though, her body is still a lot of fun, huge belly and all.
Leaving my thoughts, I pick up my towel and wrap it around my rear, beginning to dry off my ass when I hear someone. I turn around and catch my own body, currently inhabited by my wife, of course, peeking around the corner of the bathroom at me. I smile at her, and giggling I drop the towel. "Oops," I say mischievously, and bend down awkwardly to pick it up. When I stand up she's right next to me, and she places a hand on my still sopping wet belly.
"You still like this?" she asks. And I smile and nod. I love being in this body, more than she knows.
"I do, and actually," I start to say. "I was hoping we could stay like this?"
I look up at my husband as he smiles at me, his hand still on my belly as he pulls me into a big kiss.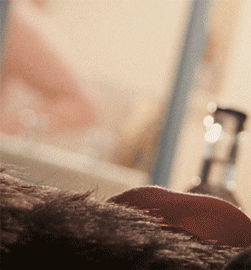 [ssba]