When foot fetish man Dick Randy licked Sarah Lynn's sexy nylon clad foot, he thought it would be just another wild foot fetish night for him, and perhaps he was right, to a degree. Upon licking her foot, he instantly changed into a busty brunette with his own set of pantyhose clad feet tucked away in designer pumps, much like the ones Sarah was wearing.
"Ok, Dana Randy, you have a set of sexy feet of your own now too. My magic nylons made this possible, and you're hot like me now," said Sarah smiling.
Dick now Dana looked down in shock and kicked off her new heels seeing her nylon clad feet, which looked much like Sarah's. The very feet he had a fetish for, he or rather she now had herself. Dana wasted no time sniffing, licking, then sucking her feet.
Sarah said, "Now that's a good girl, suck those toes. Welcome to the feet club Ms. Dana Randy. Now you can be on the other side of the fence, and not only see sexy feet but have them as well. I always thought you'd make a better person as one of the gals, and now I believe it."
Dana looked up and smiled at Sarah, then went back to her feet, a foot fetish princess now and happy with it.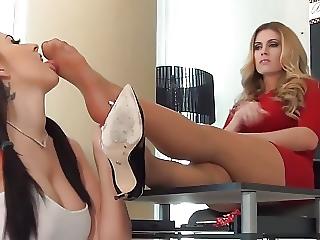 [ssba]