Natalie Beavers was one of Ted's teachers, and he often wondering what a sexy woman like herself, got up to after school let out. He wished to know one day on the way home from school, and after pushing a cat out of the way of being ran over, he was allowed one wish. This cat was magical, and wanted to repay Ted.
"I wish I knew first-hand what Ms. Beavers did after school let out," he said, not even thinking it through.
The cat said, "Done, my repayment to you is in full."
The cat ran off, and Ted didn't see anything happening, and he thought a bit, and still didn't know what she did after school. Ted thought he must be hallucinating or something, maybe it was the cafeteria food? Then suddenly as he started off towards home, he felt weird and blacked out.
Suddenly he felt even weirder, and realized he was feeling a strange pressure and pleasure! He could hear the moaning voices of his other teachers, and he felt entered in more ways than one! He looked up at a cock that he was sucking then above it to see Principal Dickson. He look to his right to see he was stroking Mr. Cox, his science teacher! Beneath him, as he peered over his right side was Mr. Peterson, his English teacher, and in front of him, fingers in his new pussy, and cock in his ass with Mr. Petersons as well, was Vice Principal Pecker. He looked on at his body, and as he spoke he realized he was Natalie Beavers! He was in her body, as she was being taken by the male faculty! Having long hair, boobs, and a pussy, and feeling his huge new ass jiggle along with his boobs in rhythm, was enough to freak him out, but the pleasure, it was intense, this woman's body loved the attention, the attention of MEN, multiple men! Now he, well she, knew what Ms. Beavers did after school, had group sex with the faculty in the teacher's lounge! No wonder these faculty members were always in such a good mood, they were getting laid after school with this hot teacher bitch, no SHE was the hot teacher bitch now, she was Ms. Beavers and she had a beaver, unbelievable!
She was now Natalie Beavers with four guys at once! As the Principal, Vice Principal, and his two teachers came almost within seconds of each other, the new Natalie shuddered in multiple orgasms as she was filled with two of the guys cum in her ass, while the other two came on her face and tits, getting some in her new mouth, her first taste of cum! So turned on she was, her orgasms were felt through her entire body.
In a moment of heat, the new woman exclaimed aloud, "I'm Natalie Beavers, and you boys TASTE GOOD!"
Maybe it was her new desires or hormones, but the new Natalie loved the taste of those hot men, and loved to be filled too! Once calmed down, Natalie had to get dressed in the floral dress, pantyhose, and heels her body was wearing in class that day, before she was in it. She felt amazing just walking in her new woman's clothes as a woman! She didn't walk straight however, the heels were hard to balance in, especially with her new center of balance, and her butt was just ravished by two cocks!
Natalie got home, looked in the mirror and winked, "I could get used to this!"
She would have to, the cat would never return to her, and that made the wish final. As for the real Ms. Natalie Beavers, she was in Ted's body and not to happy about it, and about to call someone, when the cat showed up.
"I'm sorry you ended up here, but the former occupant of that body you have now, wished to see what you did first-hand, so I let him be you. Now, I won't curse you if you are unhappy like this. I will grant you one wish to fix this, ok there," said the cat.
"Fine, fine, I wish to undo what he just did," said Natalie in Ted's body.
"No can do, I can not undo previous wishes. Think of something else," said the cat.
"Fine, I'm not sure how you can even talk or grant wishes, but then again, I'm in this kid's body. I wish female again," said Natalie.
Suddenly Natalie's male body of Ted's morphed into a teen girl version of what Ted would have been like had he been born a girl. Granted she didn't get her teaching job back, and would have to probably go to school again, but there she could make life for the new Ms. Beavers very hard indeed!
The cat said his job was done, and ran off, never to be seen by her again either! Later the new Ms. Beavers would have to give the old Ms. Beavers, now going by Tessa in her new teen chick form A's not only in her class, but get them adjusted in her other classes, by having sex with her other teachers too! It looks like they both had their work cut out for them!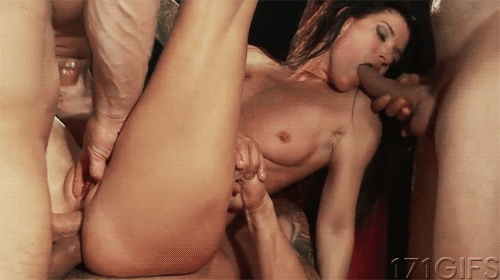 [ssba]